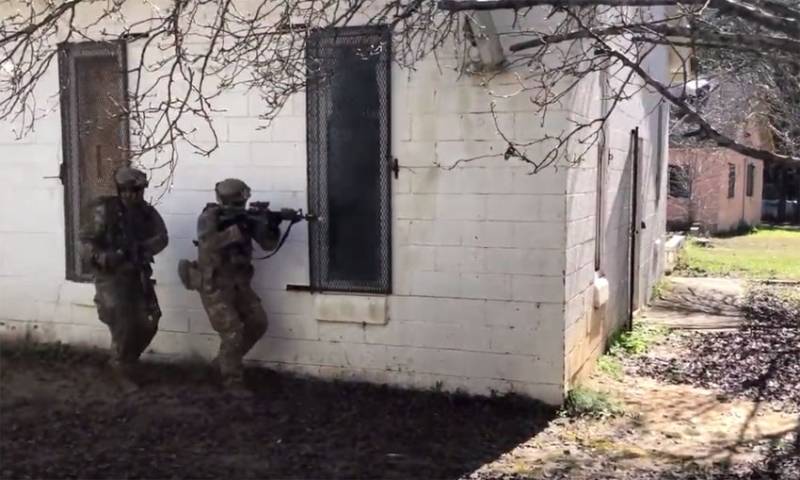 In the United States conducted test training of special forces, small arms
weapon
which was equipped with Israeli "friend or foe" devices. In addition to the US military, the British Marines also took part in the training. Training sessions were held at the Fort Benning military base.
According to American media reports, there have been tests of Israeli-made Safe Shoot devices. This device is attached to the barrel of small arms and collects information about where the fighter is aiming. Moreover, initially all of these devices in a certain area are combined into a common network.
The principle of operation is approximately as follows: a device on a fighter's rifle is able to track the coordinates of other fighters of the same unit. Safe Shoot lights a green light if a co-worker does not enter the firing zone. If the system believes that the shot may prove to be dangerous for any of the fellow shooters, then the red signal is turned on.
One of the American fighters tells:
For example, you may not notice your own through the foliage. But the red light lets you know that you can't shoot in this direction, because there is your own. The device allows you to act in small groups. For example, I aim a rifle, and if the light on the device is green, another fighter from the group throws a grenade in that direction.
During training, options for firing through smoke were worked out. As reported, the system proved to be practically without failures, allowing you to understand who is behind the smokescreen - "friends" or "strangers".
It is noted that the device does not block shooting, but only informs the fighter. It warns that the so-called "friendly fire" can be opened.
The British marines criticized the device. One of the Marines noted that the last thing you think about in a battle is a light bulb that is "trying to suggest something."
From the statement:
And this signal is almost impossible to see in bright daylight or, for example, in a shady forest, where light and shadow change quickly. In an operation in a small team, in any case, you need to know about the location of your fighters.
The system was also criticized for the fact that the enemy can take possession of the weapon, which will give him an additional advantage - Safe Shoot will show it as "his".
In RuNet, the Israeli development "friend or foe" was ironically called "chatlan-patsak" - according to the device from the film "Kin-dza-dza!", Which, by the color of the light bulb, made it possible to determine the "status" of the person standing in front of you.