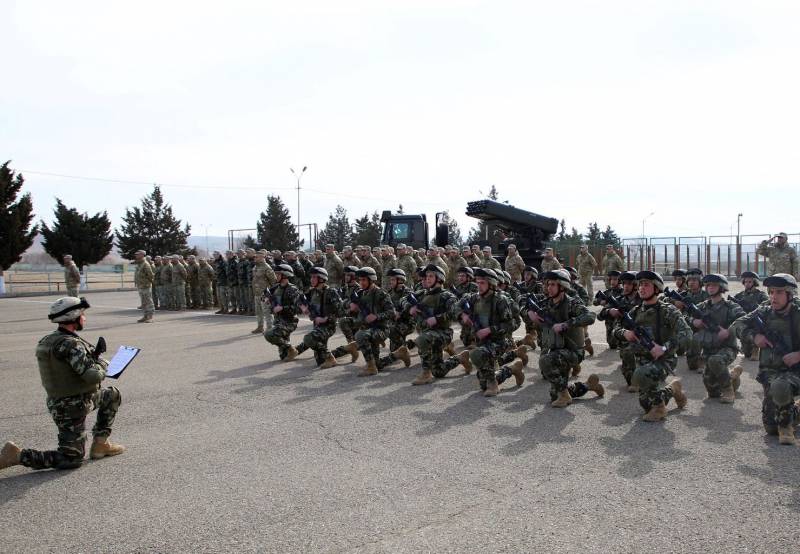 Without particularly going into the analysis of the reasons why in August 2008 the Georgian army was not just defeated but was badly beaten, it's worth mentioning that a very bad joke with those who gave it commands was played by blind faith in the omnipotence of NATO standards and American instructors. Certain lessons in Tbilisi were learned from all that happened. That's just not the fact that exactly those that should be.
In fact, the local armed forces are continuing to move in the direction of the same rejection of everything Soviet and creating the maximum likeness of small but proud armies that some (not the most significant) members of the North Atlantic Alliance are trying to brag about today. For example, things are considered a great achievement there, such as the abolition of "obsolete Soviet-style military ranks", the introduction of a uniform that meets NATO standards, and the rearmament of an increasing number of units from our Kalashnikovs to American M4A1 and M4A3.
However, all this is particular. The main thing is different. The airborne and naval forces in Georgia, ingloriously crushed in 2008, simply decided not to rebuild. "Gifts" of such value as combat aircraft or ships, none of the military partners from the West are going to make Tbilisi, and there is no mention of their strength for their construction. So the only thing that flies today in the Georgian army is various UAVs. Mostly Israeli Hermes, Elbit Skylark and Aerostat, but they say that Georgian craftsmen are stubbornly trying to create something of their own in this area, and it seems that they have been successful since 2010. According to rumors, somewhere in the hangars even "deeply modernized" Su-25s are hiding in an unknown quantity, but even the question is not about reviving the Air Force.
In fact, today the ground forces are the only real kind of troops in the Georgian army. Trying to completely copy the NATO system of manning and equipment saturation, they followed the path of creating unified brigades, intending in the future to completely abandon dividing them into
tank
mechanized and infantry. Also in the army structure will be specialized anti-tank, engineering units and air defense units. This last point for the Georgians is just a matter of pride - five years ago they managed to beg France for more or less modern air defense systems, including the Ground Master GM403 radar and the Ground Master GM2000 radar, as well as the MBDA MISTRAL ATLAS air defense systems. To fight the tanks, the Americans of Georgia, like all their very close friends, set aside their widely publicized "Javelins."
Serious "armor" in the Georgian army is mainly represented by Soviet models like the T-55 and T-72, to some extent "modernized", and the Ukrainian "Oplot". However, there is information about several German Leopard 2A6, but their tight Germans are allowed to expel from the boxes only during joint exercises. The lighter armored vehicles are again Soviet classics, from BMP-1 and BPM-2 to BTR-70 and 80. However, in recent years, the production of purely Georgian armored vehicles "Didgori" and "Lazika" has begun and has been accelerated at an accelerated pace.
On the whole, Georgia, which spends quite solid money on an army for a not-so-rich country, is torn between the desire to create more powerful armed forces and its own real capabilities. Yes, they realized that they were deeply mistaken, believing in a "small but professional army" - after the warriors who claimed this definition were defeated by Abkhaz militia and Russian conscripts. The leadership of the country was forced to extend the period of compulsory military service and even returned to school something like initial military training. At the same time, Tbilisi is directing all its main efforts towards as close integration with NATO as possible, opening a permanent alliance training center on its territory, participating in all its exercises and missions, wherever they call.
Ultimately, all military construction in Georgia comes down to the creation of formations and forces, the only task of which, in essence, is to "hold out until the Americans arrive." That's just the experience of 2008 shows that they most likely will not come at all. So it would be good for Tbilisi to learn this particular, main lesson, and not try to "reintegrate" those who do not want to live under his rule by military force. Well, of course, it's better not to quarrel with your neighbors.