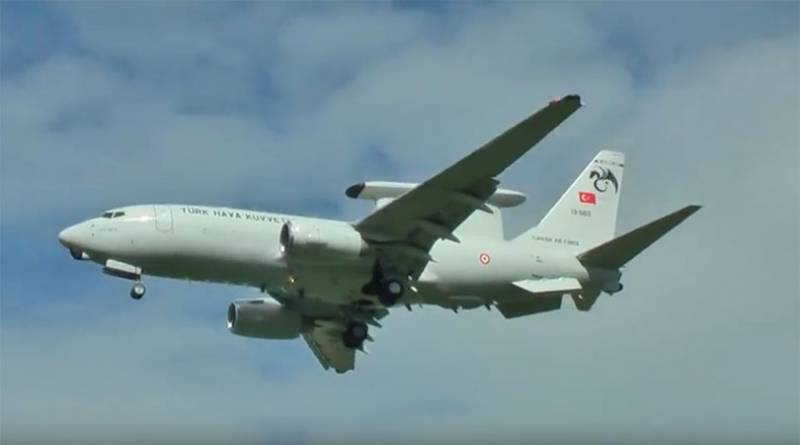 In Idlib, Turkish forces continued to strike at CAA positions.
The Turkish Air Force Command ordered the Boeing 737AEW & C early warning and control aircraft to be deployed at the borders of the SAR. The aircraft is equipped with an electronic warfare system, which includes an SOP (Optoelectronic Countermeasure System) AN / AAQ-24 (V) Nemesis. The aircraft belongs to the 131st squadron of the Turkish Air Force. It is located in the air of the border provinces and runs from Iskenderun to Reyhanli and back.
At the same time, today, Turkish President Recep Erdogan "demanded" from the Syrian troops "to move to the lines that are negotiated by the Sochi agreements." Recall that the meeting of Vladimir Putin and Recep Erdogan in Moscow is scheduled for March 5.
Against this background, the Israel Defense Forces once again took off helicopters in the area of ​​the Syrian border. According to local information sources, one of the helicopters fired at a car of the Syrian government forces, located on the Syrian side of the Golan Heights. There is no casualty data among SAA troops at this time. The Israeli command reports Syrian sources do not comment.
Meanwhile, Syrian forces crushed several hotbeds of militant activity at the borders of Israel and Jordan. In particular, we are talking about striking militants in the province of Daraa, where terrorist groups in Muzayrib and near Kerbet-Ghazalah were destroyed.
Recall that up to 6 groups of militants with a total number of several hundred people on the eve organized attacks on settlements in Daraa, took several of them, where they drove the local population to rallies "against the Assad regime." Syrian troops fighters from the majority of the villages occupied by those today knocked out. Militants traditionally tried to hide behind civilians. In a number of areas, special units of the Syrian law enforcement agencies functioned as leaders of bandit groups as targets. After the destruction of at least three "field commanders", several militant units ceased resistance.
In the final part of a small summary: according to unconfirmed reports, the large landing ship Novocherkassk passed the Bosphorus Strait and is heading to the logistics point of Tartus (Syrian Arab Republic).