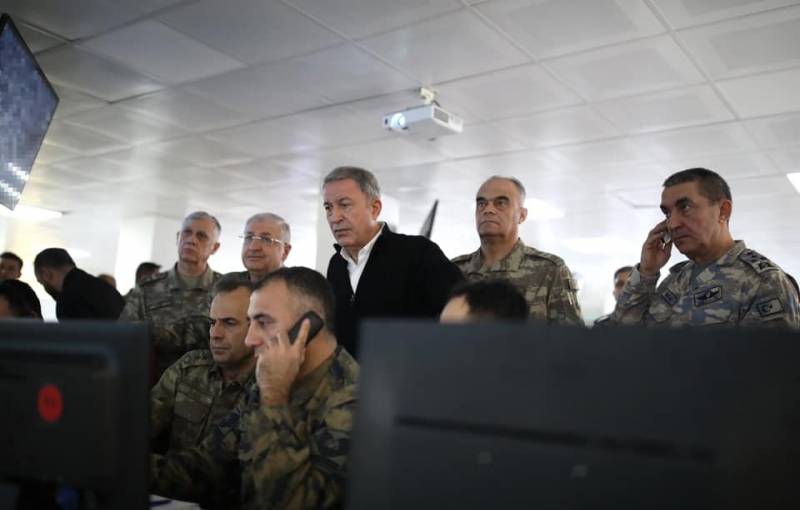 Turkish Minister of Defense with representatives of the command staff
A new Turkish military convoy entered the territory of the Syrian Arab Republic. Illegal border crossing point - traditionally used by the Turks in the past few weeks: a site at the Chilveguzyu checkpoint on the road from Turkish Reyhanli to the Syrian city of Sarmada.
Meanwhile, Syrian government forces suffered losses in the south of the country - in the province of Daraa, where militant groups intensified on the eve. The militants attacked several settlements at once near the borders of Israel and Jordan: Nahra al-Harir, Al-Mazirib, Tafas, Qasim, as well as the administrative center of the province of Daraa - the city of the same name.
According to reports from Syria, three members of the SAR security service were killed in al-Mazirib.
Also, the militants noticeably intensified in the south of Idlib province. Having lost significant territories last week, the militants regrouped and launched a counterattack, trying to take one of the key cities in these territories - Kafranbel.
From the province of Hama, reports have come that Turkish strike drones are already active in the airspace of this part of Syria. According to the latest data, UAVs of the Turkish armed forces attacked the positions of the SAA at the local airfield. According to some reports, the anti-aircraft installations used to protect the facility are damaged.
With the help of long-range artillery, Turkish troops fired on the western suburbs of Aleppo. In particular, a blow was inflicted on the Al-Zahra quarter. And on the M5 highway, several units of Syrian government forces' armored vehicles were destroyed from the air.
The day before, two Turkish Air Force F-16 fighters shot down two Su-24 Syrian Air Force bombers.
Against this background, the Russian Ministry of Defense circulated a message that after Damascus closed its airspace over Idlib, it could not guarantee security for the Turkish military
aviation
. The Russian defense department noted that Turkish actions in Idlib violate the agreements previously reached in Sochi.