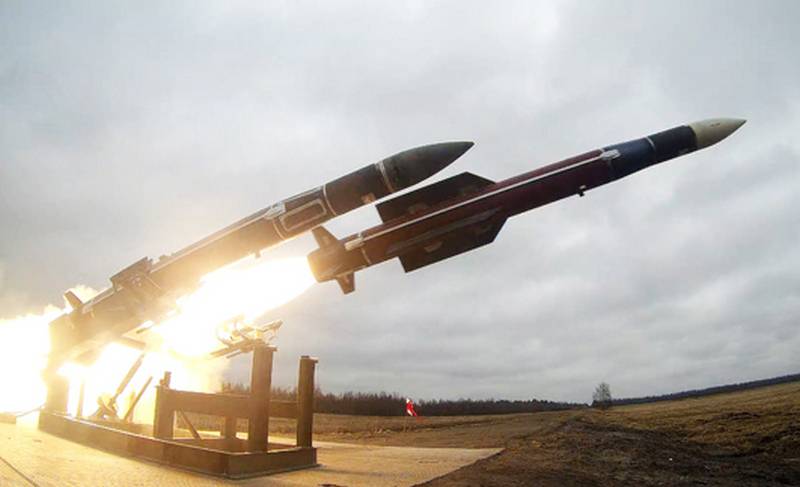 Belarus has successfully tested the new 9M318 anti-aircraft guided missile (SAM) for the modernized Buk-MB2 anti-aircraft complex (Buk-MB3K). This was reported by the State Military Industrial Committee (Goskomvoenprom) of Belarus.
According to the report, this missile system was developed on the initiative of the OKB TSP, a scientific and production society that is part of the system of the State Military Industrial Committee. Tests were conducted from February 17 to February 26, 2020 in the territory of the former Polessky aviation training ground.
This is the first stage and the main test of the performance of the main systems of missiles. In fact, these were the first launches, as we also call them, design ones. The designer checks the characteristics laid down by the calculation method. This is an important stage, because it was preceded by serious work on the ground - on test benches, during modeling, calculations
- said in a statement.
SAM 9M318 is designed to destroy high-speed maneuvering aerodynamic targets, tactical ballistic, winged,
aviation
and anti-ship missiles and helicopters (including those in the hover mode) in conditions of intense electronic countermeasures, as well as surface and radio-contrast ground targets.
According to the developers, the rocket was developed according to modern technologies, taking into account world technological achievements in the field of rocket science using composite materials. The declared range is up to 70 kilometers.
A feature of the rocket is the presence of an active homing head, which allows you to hit targets, including those with a low reflective surface, with a higher probability, and also to free the target air defense channel, without waiting for the target to hit.
According to the bmpd blog, the missile is intended for use on the Buk-MB3K (Buk-MB2) medium-range air defense system modernized by Belarusians.
The 9A318K self-propelled firing system and the 9A319K transport and loading vehicle, made on the MZKT-692250 (8x8) wheeled chassis, can use the following types of missiles - 9M38, 9M38M1, 9M317, 9M38MB, 9M38MB1, 9M318.
MiG-29 type air target detection range - 130 km
MiG-29 type target detection range by thermal imaging-optical system - 40 km
The number of simultaneously fired targets - 6
9M318 missile target range - 3 - 70 km
The height of hitting a target with a 9M318 missile - 0,015 - 25 km
Type GOS - ARGSN
Minimum target image intensifier - 0,1 m2
Available overload - 25g
Weight SAM 9M318 - 815 kg