On the territory of the province of Idlib in Syria, militants made another attempt to attack the positions of the Syrian government forces. Having occupied with the support of Turkish troops Serakib and the important transport interchange M4-M5, the militants switched to the south.
Jihadists, with the support of Turkish artillery and strike UAVs, were able to wedge themselves in the line of defense of the SAA west of Kafranbel. The militants managed to seize several settlements, including Dar al-Kabir, Al-Khalub and others.
Turkish drones attacked the city of Kafranbel, which so far remains under the control of Syrian government forces.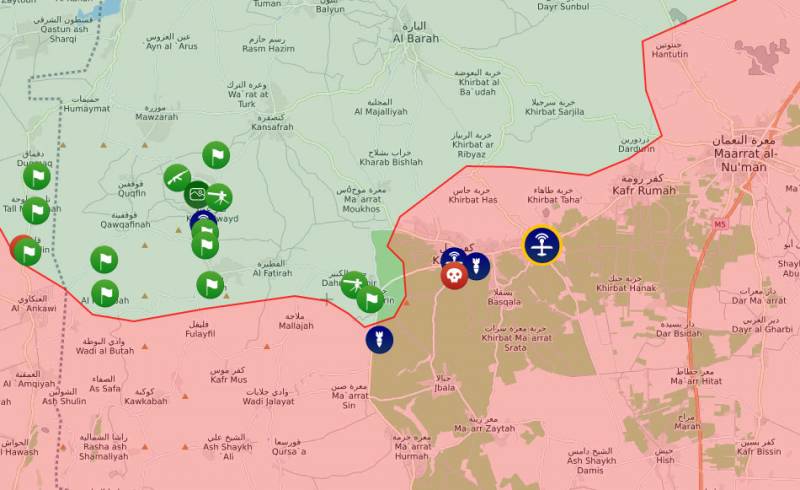 It became known that the night before, the Turks bombed an SAA convoy near the village of Khas east of Kafranbel by an air strike. Syrian forces advanced reinforcements to the section of the front where the militants launched an offensive, but the Turkish armed forces did not allow this reinforcements to approach the Kafranbel-Khazzarin area.
Against this background, footage is published with crowds of Syrian refugees, who are trying to restrain the Greek border guards. According to recent reports, several thousand refugees have already managed to overcome the Greek cordon from Turkey, about 3 thousand more are ready to do so in the near future.
CRISE DE IMIGRAÇÃO - Esta é a imagem de cerca de 3000 migrantes ilegais vindos de #IdlibAt #Syriaentre as fronteiras da #Grecia e #Turquiano lado norte da fronteira em #Evros na Grécia. Agora eles aguardam uma posição de #Angela Merkel conhecida como "anjo da #Europa" pic.twitter.com/pSSk8PYe1J

- Explora Digital (@digital_explora) March 1th 2020
Meanwhile, in the edition
Turkish minute
Noteworthy material came out that with the two brothers of one of the Turkish soldiers who died recently in Syria (Akif Aksadag), military contracts were terminated (they were fired from the Turkish army). It turned out that representatives of the Aksadag family are supporters of the preacher Fethullah Gulen, who received asylum in the United States. Recall that several years ago, supporters of Gulen, with the support of Washington, tried to carry out a military coup in Turkey and remove Erdogan from his presidency. The publication says that today at least 30 thousand people are in Turkish prisons in the case of an attempted coup.