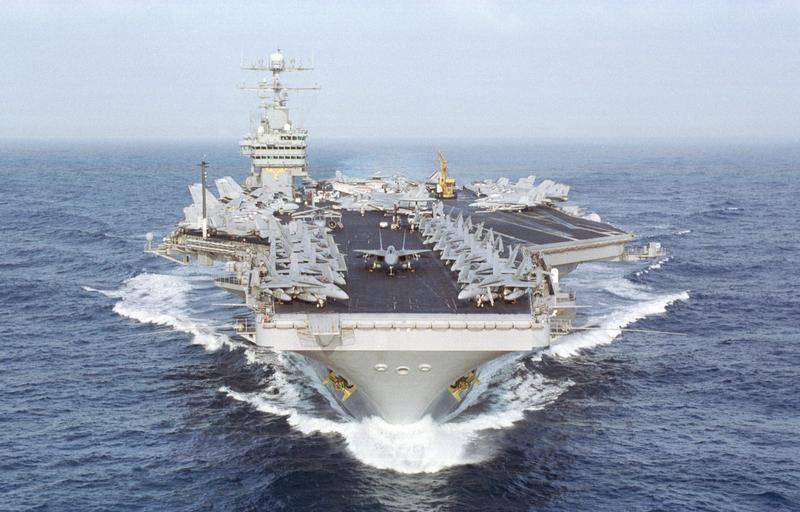 A U.S. Navy carrier strike group entered the Mediterranean Sea, led by the USS CVN69 Eisenhower nuclear carrier. This is reported by the British
news
portals.
According to reports, the AUG, which includes the USS San Jacinto CG-56 and USS Vella Gulf CG 72 missile cruisers, the Truxtun DDG-103, USS James Williams DDG-95 and USS Stout DDG 55 destroyers, has already passed Giblartar and is heading to Vostochny The Mediterranean. The aircraft carrier wing consists of 48 F / A-18E Super Hornet fighter-bombers.
In addition, the carrier group must also be accompanied by a nuclear attack submarine equipped with Tomahawk cruise missiles, but there is no information about this.
According to the U.S. Navy command, the carrier group was sent to the Persian Gulf region to change the carrier carrier group of the USS Harry S. Truman CVN 75, but for some time it will be in the Eastern Mediterranean off the coast of Syria.
The atomic multi-purpose aircraft carrier Dwight Eisenhower has a displacement of 97 thousand tons. Length is 333 meters, width - 73 meters. The power plant includes two reactors and four turbines; its power is 260 thousand hp Speed ​​- 30 knots. The crew - 3200 people, as well as 2480 people of aviation personnel. Air wing - 90 airplanes and helicopters (statewide).