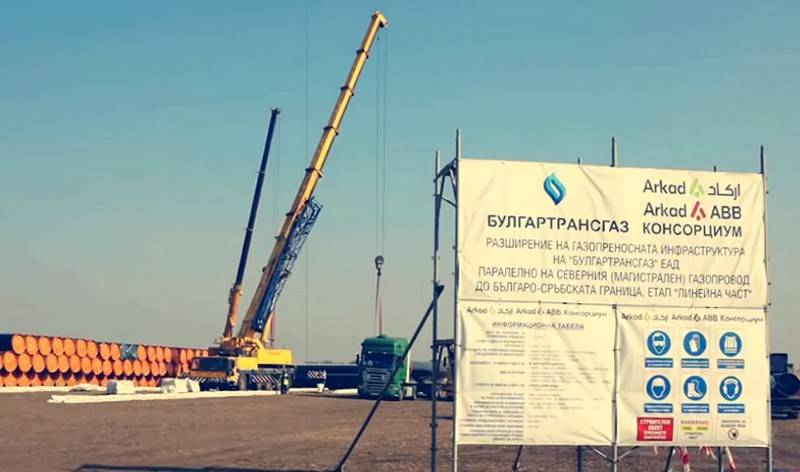 Deliveries of Russian gas to Eastern Europe via the Turkish Stream gas pipeline are again delayed. The reason is the slowdown in the construction of the gas pipeline in Bulgaria. It is reported by Darik News.
According to the publication, obtained from the report of the Bulgarian gas transportation system, by February 25, 2020, only 103 of 308 kilometers of pipes had been welded. Another 36 km of pipes were simply laid, but no one started welding them. At the same time, Serbia finished laying its 403-km stretch back in December last year and, due to problems on the Bulgarian stretch, cannot receive gas via the Turkish Stream.
Meanwhile, the contractor is accused of all troubles in the Bulgarian GTS. The state company Bulgartransgaz laid the blame on the Saudi consortium Arkad, with whom a contract was concluded. According to the agreement concluded in September 2019, Arkad was supposed to build a 250 km section of the gas pipeline in 308 days, but in only 5 months it laid only 103 km of pipes. The reason for this speed of construction is unclear. It is noted that this is the third slowdown in the construction of the Turkish Stream in Bulgaria.
In accordance with Bulgarian law, the responsibility lies solely with the contractor, both with regard to ensuring the full volume of supplies of equipment and materials, and with regard to the implementation of construction work
- leads the publication of the message "Bulgartransgaz"
Under the contract, Bulgaria cannot hire a subcontractor to expedite the construction, so we hope that in the remaining 3 months the Bulgarian section will be completed and Russian gas will go to Serbia and other countries of Southern and Eastern Europe.