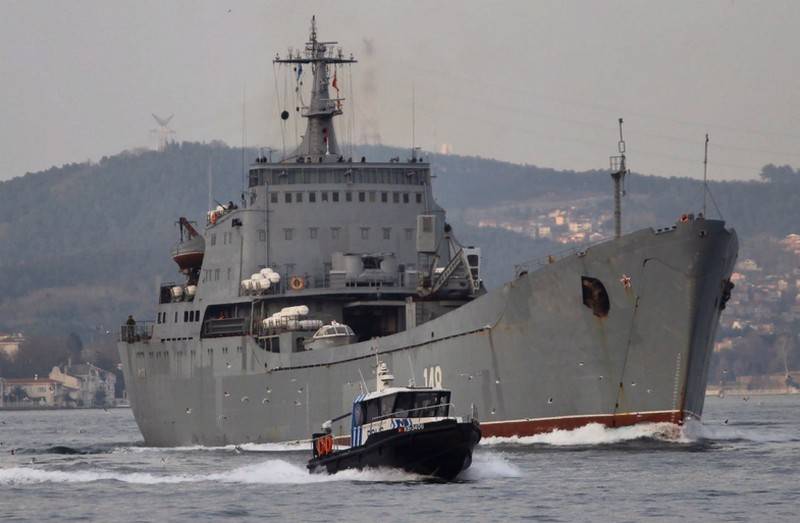 Against the backdrop of the aggravation of the situation in the Syrian province of Idlib, following two Russian frigates, on Friday traveling to the Mediterranean Sea, the Black Sea straits passed a large landing ship (BDK) of the Black Sea
fleet
"Orsk". This is reported by Istanbul information sites.
According to reports, the BDK passed the straits under the scrutiny of the Istanbul Coast Guard and the maritime police, whose boats accompanied him until their full passage. As noted, this is the first trip of BDK "Orsk" to the Mediterranean Sea this year.
Earlier, two Russian frigates Admiral Makarov and Admiral Grigorovich passed the straits in front of the BDK. They safely proceeded to the Mediterranean Sea and headed for joining the Russian permanent group of the Navy.
Earlier, Turkish media reported that Turkey could close the Black Sea straits of the Bosphorus and Dardanelles for the passage of Russian warships. Such a right is given to her by the Montreux Convention of 1936. According to Art. 20 and 21, if Turkey considers itself "at risk of imminent military danger", it may decide to close the straits.
The aggravation of relations between Russia and Turkey happened on Friday, after being attacked by the Syrian
aviation
hit the Turkish military, who are together with the militants in the Idlib province of Syria. As a result of the strike, more than 30 Turkish army soldiers died, Ankara accused Russia of involvement in the strike.