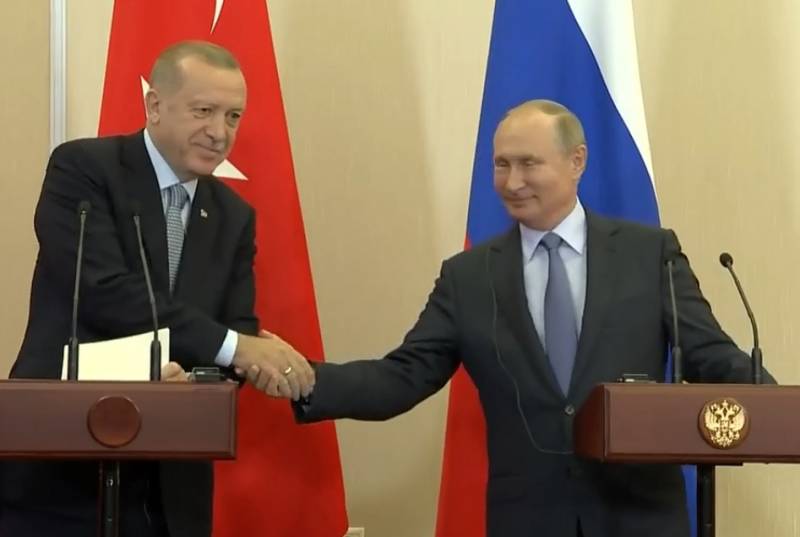 Telephone talks were held between Russian President Vladimir Putin and Turkish leader Erdogan. The initiator of the conversation was the Turkish side.
This was told by Russian Foreign Minister Sergei Lavrov.
The leaders of the two countries discussed in detail the agreements reached on the de-escalation zone in the Syrian province of Idlib. The presidents agreed that maximum efforts should be made to implement them.
Commenting on the telephone conversation, Lavrov said:
There is always room for dialogue.
Lavrov also on behalf of the leadership of the Russian Federation expressed condolences to Ankara in connection with the death of the Turkish military in Syria.
It is noted that Putin and Erdogan confirmed their readiness for the meeting and noted that it is necessary to intensify preparations for its holding. That is, to be a meeting. Although just a few hours ago in a number of media it was announced that "it will have to be canceled."
Recall that in addition to the leaders of the Russian Federation and Turkey, France and Germany in the person of Macron and Merkel plan to take part in the meeting on Idlib.
Earlier, Turkish Minister of Defense Hulusi Akar said that Russia had been warned about the locations of Turkish troops. He accuses Moscow of the fact that the attack was carried out, despite the fact that she had the coordinates of the positions of the Turkish troops.
The Ministry of Defense of the Russian Federation reports that the Turkish military moved along with the advancing militants, and therefore came under fire. And according to the indicated Turkish military coordinates, shooting was not conducted.
At this time, there were reports of Russian air strikes in the area of ​​the village of Kaminas in the Syrian province of Idlib.
In addition, it is known about the shelling of Turkish military villages in the vicinity of Erima. About 50 shells were fired at them.