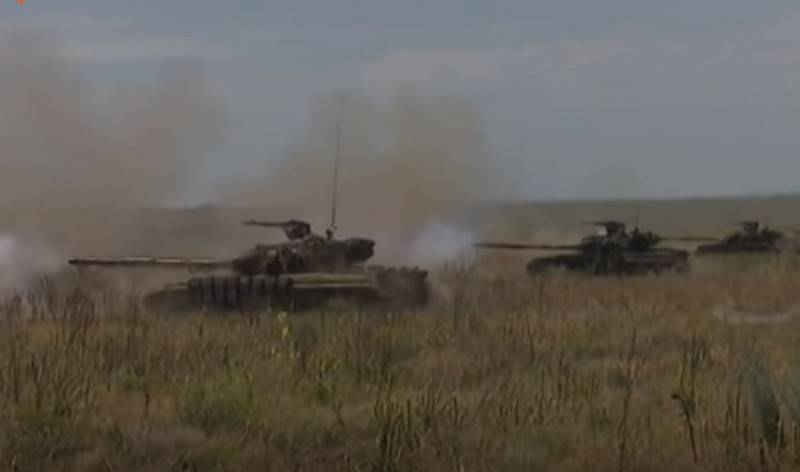 The next exercises of the Armed Forces of Ukraine on defense of the coast of the Sea of ​​Azov from attack took place at one of the training grounds in the area of ​​the operation of the environmental protection system. This was reported by the press center of the operation of the combined forces of the Armed Forces of Ukraine.
According to a popular report, a two-day exercise called "Fair Wind" with live firing was conducted in the territory of Donbass, controlled by Ukrainian security forces. Because of the firing, a certain area of ​​the Sea of ​​Azov was blocked for shipping and air traffic.
According to the scenario of the exercises, the Ukrainian Armed Forces reconnaissance discovered in the waters of the Sea of ​​Azov an enemy boat group carrying troops. The main objective of the exercises was to prevent the landing of the main forces and repel the first wave of the enemy. About 400 personnel, five ships and boats, 25 units of various artillery systems, including MLRS, 13 units of armored vehicles, two Mi-8 helicopters and one Mi-14, as well as two Su-25 attack aircraft and two MiG fighters took part in the exercises -29.
The purpose of the training ... was to prevent the main landing and repel the advanced forces of the enemy's landing force, throw it back into the sea and destroy it during the retreat ...
- said in a statement.
Summing up, the command noted that the tasks of the exercises were completed successfully, the conditional attack of the enemy was repulsed, which, "having suffered losses, retreated, evacuating the wounded."
These are already the second exercises of the Armed Forces of Ukraine and the Naval Forces of Ukraine held in the area in recent days.
For our part, we note that the exercises conducted by the APU to repel a landing on the coast of the Sea of ​​Azov look somewhat strange, since they always act out according to the same scenario: the enemy's landing is without cover, prior artillery preparation, without support
aviation
etc. and of course end with the victory of the Armed Forces of Ukraine, who managed to discard the "aggressor".