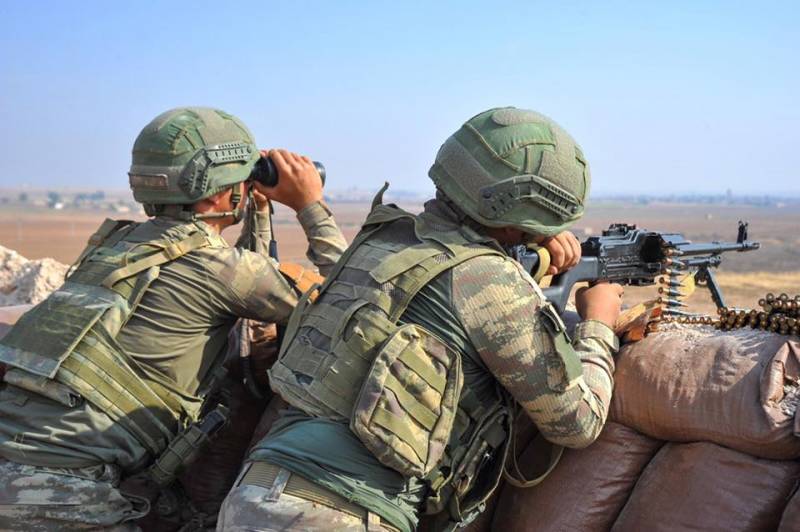 Syrian media publish video footage depicting a massive attack on CAA positions in Idlib. These attacks, as previously reported by the Turkish Ministry of Defense, were a response to the loss of 33 Turkish troops in Idlib the day before.
Turks struck primarily with the use of shock-type drones. In addition, the Turkish contingent used means of barrels and rocket artillery.
On the frames that were shot by cameras from the UAV, it can be seen that the strikes are delivered as on separate units of armored vehicles, including
Tanks
and the columns of the Syrian troops. According to the Turkish side, the Assad regime's losses suffered the most south of Serakib - on the M5 road. It should be noted that earlier in this area, militants tried to develop their success with Turkish support.
Judging by the shots, blows were also inflicted on the buildings. At the same time, the Turkish Ministry of Defense claims that all these objects belonged to the Syrian armed forces. In one video, a discussion of the situation from the passengers of the bus.
Syrie: Le média TV Net de Turquie publient des images qui prétendent montrer des frappes sur des positions du régime à Idlib en réponse à la mort de de 33 soldats turcs hier.# Syria #Turkey pic.twitter.com/ov3dh98R2l

- Rebecca Rambar (@RebeccaRambar) February 28
[media = https: //twitter.com/i/status/1233329093921443841]
On the frames you can see air strikes and manpower.
The Syrian side has not yet reported losses as a result of this massive Turkish strike on the positions and infrastructure of the SAA in Idlib.