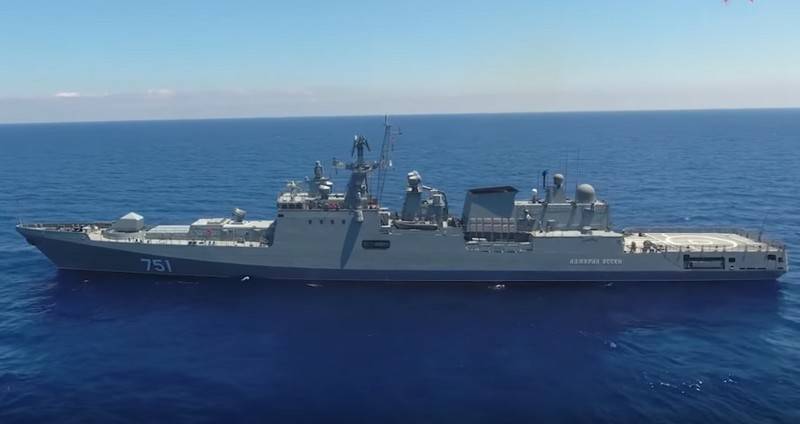 Russia sent two frigates of Project 11356 to the Mediterranean Sea - Admiral Grigorovich and Admiral Makarov. This was reported by the press service of the Black Sea
fleet
, which includes ships.
As explained at the headquarters of the Black Sea Fleet, both frigates were sent to join the permanent group of the Russian Navy in the Mediterranean Sea, but earlier ships of this class were sent to the coast of Syria one at a time. Currently, the group includes one more similar frigate, Admiral Essen, which arrived on the Syrian coast in December 2019.
According to the latest data, the frigates calmly crossed the Black Sea straits and have already embarked on an accession in the Russian squadron.
Frigates "Admiral Makarov" and "Admiral Grigorovich" equipped with high-precision
weapons
- missile system "Caliber-NK", make a planned transition from Sevastopol to the distant sea zone, where they will be part of the forces of the permanent grouping of the Navy in the Mediterranean Sea
- Reported the press service.
Admiral Grigorovich and Admiral Makarov are the lead and second serial frigates of Project 11356, respectively. Built at the Baltic shipyard. Displacement of about 4 thousand tons, speed - 30 knots, sailing autonomy - 30 days. The frigates are armed with Caliber-NK and / or Onyx cruise missiles, the Shtil-1 self-defense missile system, the A-190 100 mm gun mount, anti-aircraft artillery, rocket launcher, torpedoes, and can also carry the Ka- 27 (or Ka-31).