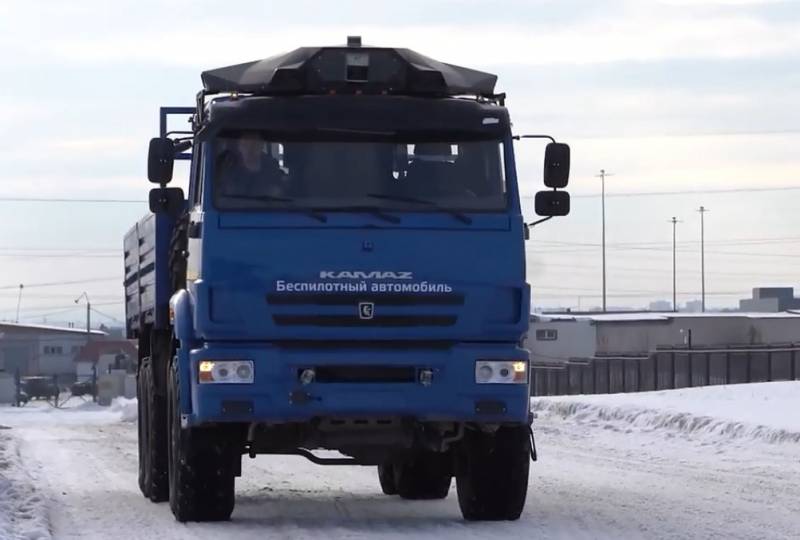 The Russian company engaged in the creation of heavy trucks KAMAZ, has developed a special module that allows you to turn the truck into a drone. The device is called "Avatar."
This was reported on the official website of the state corporation Rostec.
"Avatar" is a module designed for autonomous driving and installed on the roof of the cab. It allows you to turn a regular truck into an unmanned vehicle. In order for this module to be connected to the truck, the latter must have an automatic transmission, an electronic accelerator pedal, an electric power steering and an electronically controlled braking system. Remote control of vehicle systems is carried out using the CAN bus.
The device is currently being tested on a KamAZ-43118 automobile. Algorithms for making managerial decisions are worked out, the operation of the software is checked. The autonomous control system is not tested at the stands, but in real conditions.
The KamAZ Scientific and Technical Center started developing the Avatar concept in 2018, and the very next year, the Innovative Car Service developed the module itself.
Rostec Executive Director Oleg Yevtushenko noted the importance of the project for the automotive industry as a whole:
The development of unmanned vehicles, including freight, is one of the main trends in the automotive industry. Such solutions are designed to optimize road traffic, reduce transportation costs and the number of accidents.