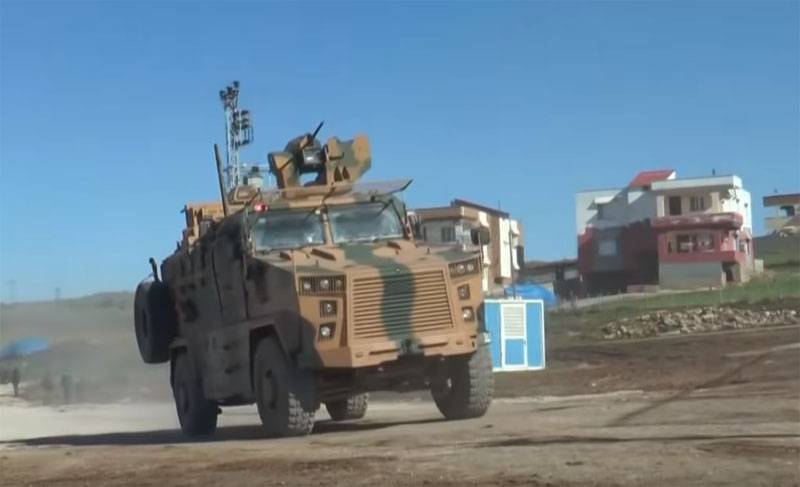 Fighting
aviation
struck a column of Turkish troops moving near the village of Behun, which is located in the province of Idlib SAR. This was reported by the SwankyStas portal. At the same time, eyewitnesses to the aircraft claim that they belonged to the Syrian Arab Republic Air Force.
Syrian warplanes targeted our Turkish brothers in Bara. There are 2 martyrs and wounded
- explained in the video.
The frames depict heavy-duty armored vehicles of the KIPRI family, which are produced by the defense industry of Turkey. They are located on the side of the highway. The wheels of the equipment are rotated, apparently, as a result of splinters from the ammunition issued by the aircraft.
Also, a video was published on the Web that depicts the transport of Turkish troops. As can be assumed, some of them placed in the car are injured or killed. In total, it was reported that three fighters from the invading army were neutralized. President Recep Tayyip Erdogan confirmed the death of three servicemen "at the hands of SAR soldiers." In general, as he previously stated, the situation in Syria is developing favorably for the Turkish army and its allies.
A Turkish military convoy that suffered an air strike from the SAR / VKS of the Russian Federation earlier today in the area of ​​Behun, Jebel al-Zawiya, Idlib governorate, Syria.

As a result of the incident, three Turkish troops were neutralized. pic.twitter.com/yF3Z1cKHsB

- SwankyStas (@StasSwanky) -
Evacuation of killed and wounded Turkish troops in the area of ​​the settlement of Al-Bara, Idlib governorate, Syria. pic.twitter.com/5S9s1uqixJ

- SwankyStas (@StasSwanky) -