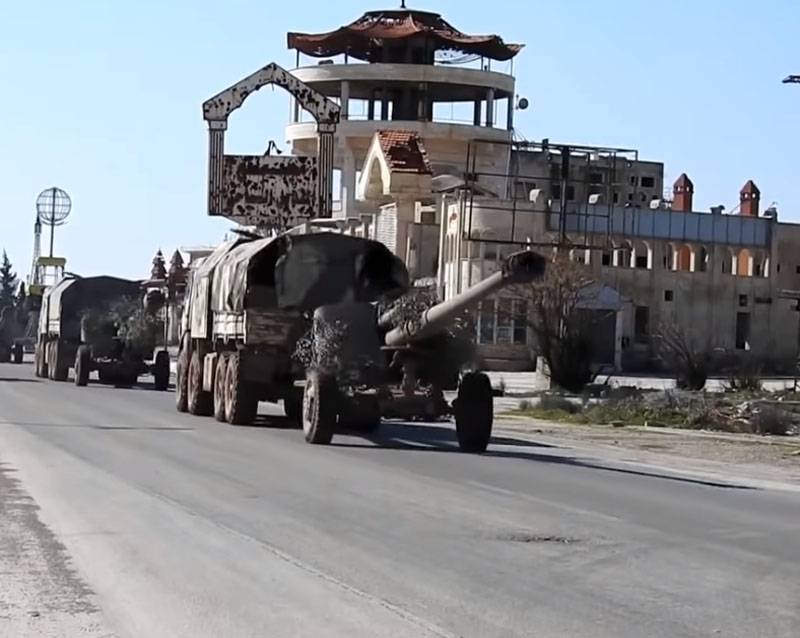 Realizing the complexity of the situation in the region of Serakib, the military command in the SAR decided to urgently transfer additional forces and funds to this sector of the front.
The forces that are currently located in the region of Seraciba and the strategically important road junction of the Aleppo-Damascus and Aleppo-ports of the Mediterranean are not enough to organize a deep defense of the areas previously freed from terrorists. The difficulties are clearly added by the fact that it is on this section that the Turkish armed forces actively support the militants who advanced from Sarmin through Nairab towards the mentioned road junction.
At the moment, a convoy of military equipment from the Syrian government army has approached Serakib, having managed to carry out the transfer before the militants could directly go to the denouement. What equipment will appear at the disposal of those units that hold the defense in this sector of the front? Additional forces include several hundred troops, including those previously located north of Aleppo.
In particular, we are talking about
tanks
and towed 152-mm howitzers "Msta-B". The maximum range for this type of howitzers is about 29-30 km (depending on the ammunition used). With the use of such weapons, including with dense fire, the Syrian government forces can push back the militants who previously captured Nairab in the direction of Sarmin-Idlib.
However, one must not forget that the arsenal of terrorists also has artillery. It is precisely in the last few days that militants have been actively using it to crush the CAA orders and enter Seracib.