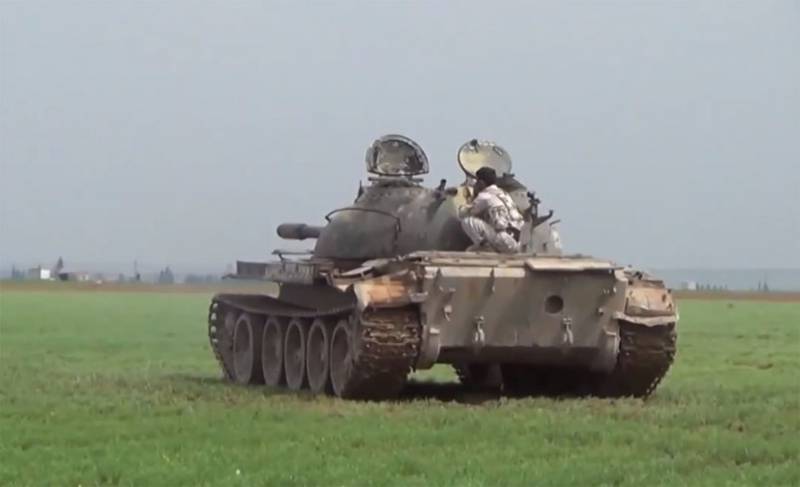 A video appeared on the network that captures the "meeting"
tank
Syrian government forces and Turkish armored vehicles. We are talking about the situation that arose on the direction of Sarmin-Nairab-Sarakib during the attack of the militants. Recall that as a result of this attack, which was actually supported by the Turkish troops, the militants managed to break through the line of defense of the SAA and seize Nairab.
The footage shows that the Syrian tank blocks the road in the specified area. The Turkish armored vehicle at a relatively high speed approaches the tank on the right - through the vegetation to avoid a direct hit. Then the crew of the armored car tries to lead her to the rear of the tank, and he, in turn, drives off the road.
As a result of the arranged "roundabout" around several trees, the Turkish armored vehicle still comes into the rear of the tank. On this movie is interrupted.
#Syria campo de nayrab de #Idlib.U tanque de batalla del ejército sirio y un vehículo blindado turco.
El tanque de batalla está tratando de disparar al vehículo blindado ...
El vehículo blindado se adherirá a él para que no sea un objetivo. pic.twitter.com/qISeo1dgb2

- Zona de Guerra-War Zone (@war_zoneII) February 25
Recall that on the eve of the militants were able to knock out a Syrian tank in the Nairab-Sarakib direction. With what weapons the attack was carried out, it is not reported, however, it can be assumed that in this case, Turkish-made armored vehicles could not have done without help.
It was previously noted that representatives of the so-called "Syrian Free Army" were trained in Turkey to improve the skills of using modern Turkish weapons. There is no official confirmation of this data from Ankara.
It should be noted that on March 5 a four-way meeting is scheduled on the situation in the Syrian province of Idlib. Russia, Turkey, France and Germany are planning to take part in this meeting.