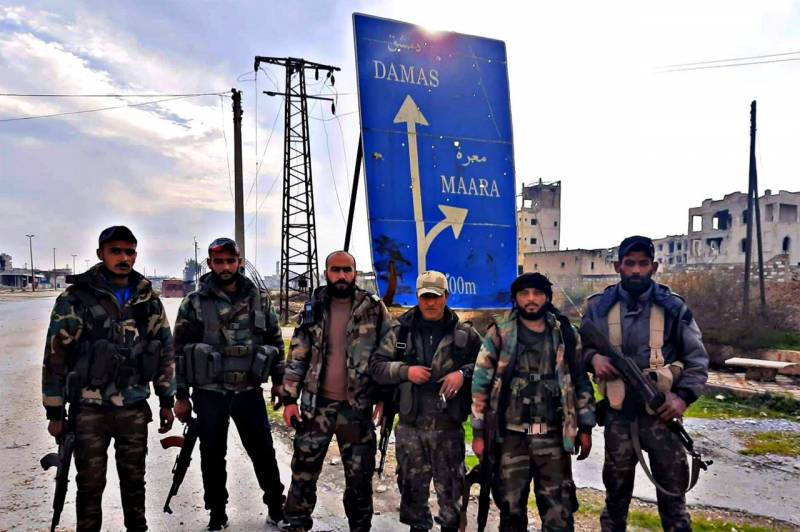 In the Syrian province of Idlib, according to various estimates, from 7 to 10 thousand militants remain, most of whom are members of the terrorist group Khayyat Tahrir al-Sham (the former Jabhat al-Nusra, which was banned in the Russian Federation). At the same time, the main forces of jihadists are concentrated in the area of ​​the cities of Sarmin and Kafranbel. These are the most combat-ready and trained (not without Turkish help) units.
In the past few hours, militant groups have launched yet another attempt to break through the SAA defense line in the direction of Sarmin-Sarakib. Using anti-tank systems during the battle, the terrorists destroyed the tank of the Syrian army in the area of ​​the road junction of Sarakib. At the same time, terrorists are trying to build several attacking lines, and those that are closer to the rear areas provide support to terrorist assault forces with fire, including rocket artillery fire.
Syrian combat
aviation
, to deprive the assault troops of support, strikes in the Nairab area. This village during the fierce battles was lost by the forces of the Syrian army, although it was initially alleged that the village is still under control by the SAA.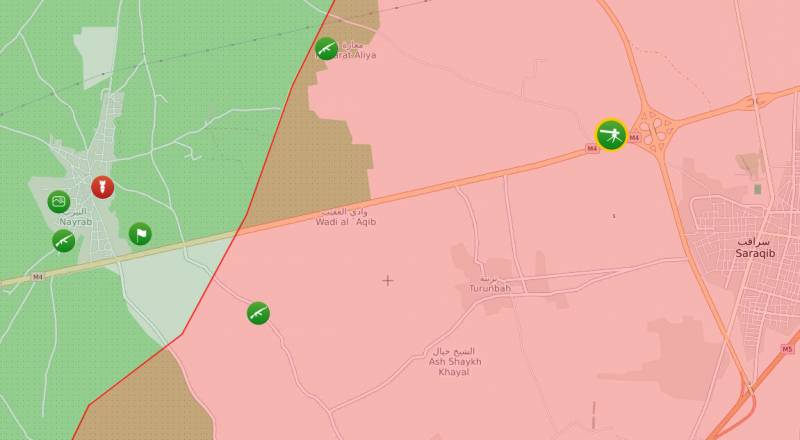 Also, the militants are making efforts to capture the village of Maarat-Aliyya, which is located on one of the secondary roads leading from Sarmin to Sarakib. Sarakib during this offensive attempt is the main goal of the jihadists. The reason is that this city has several important transport arteries crossing all of Syria.
The situation in this sector of the front for the CAA is extremely difficult. It became complicated precisely after the loss of Nairab. However, against this background, the Syrian ground forces, with air support, managed to penetrate deeply into the enemy's defenses south of Kafranbel. On this site, the SAA freed Marat-Sin and Maarat-Tassin from the terrorists, taking Khirbat Kasr-az-Zir into a half-ring.