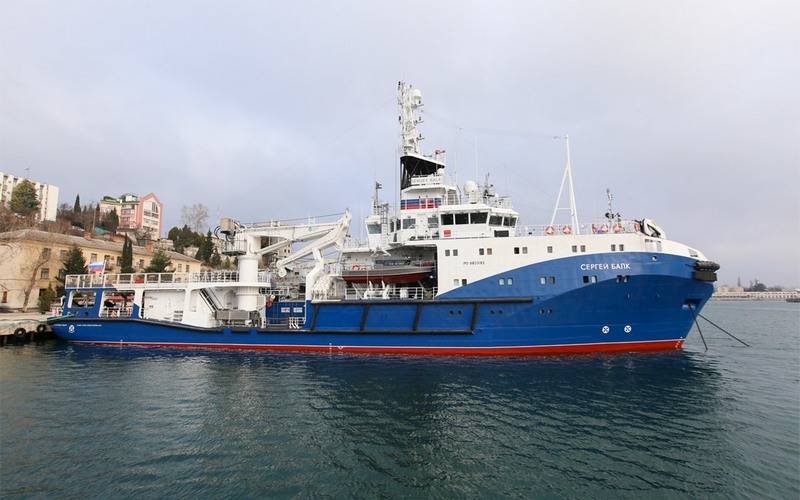 The Black Sea Fleet received a new marine tugboat of project 23470. The ceremony of putting the tugboat "Sergey Balk" into the squad of support vessels
fleet
was February 21 this year in Sevastopol. This was reported by the press service of the Ministry of Defense.
Sea tug "Sergey Balk" is the lead in a series of five sea tugs of project 23470. Built at the Yaroslavl shipyard according to the contract for two sea tugs for the Ministry of Defense concluded in 2014. Laid down at YaZZ on October 30, 2014 and launched on December 27, 2016. It was supposed to be delivered to the Black Sea Fleet before November 25, 2016, however, the construction of the vessel turned into a long-term construction due to the revision of the project to replace imported components with domestic ones.
The completion took place at the Persey Shipyard in Sevastopol, where it was towed in the middle of summer 2018.
The tug is named in honor of Sergei Zakharovich Balk (1866 - 1913), who commanded the port vessel (rescue tug) "Strongman" of the Port Arthur naval base in 1901–1904.
Currently, the second tug of this project, "Andrei Stepanov," is under construction at the Perseus Shipyard.
Three more tug boats of project 23470 are being constructed in Yaroslavl under a modified project with the installation of Russian equipment.
These marine tugs are designed to perform marine towing of ships, floating objects and structures in ice and in clear water; pilotage of vessels in the water area of ​​ports and docking; performing escort operations at sea; extinguishing fires at floating and onshore facilities, as well as extinguishing fuel burning on water; stranded ships and ships.
At the aft end of the vessel there is a platform for receiving and taking off helicopters. The presence of a crane with a lifting capacity of 20 tons at a boom reach of 13 m with active roll compensation allows the tug to independently carry out cargo operations and serve the helipad both in calm water and in marine conditions.
The main dimensions of the vessel: the greatest length, m 69,75; maximum width, m 15,0; board height to VP, m 6,7; maximum draft, m 5,2.