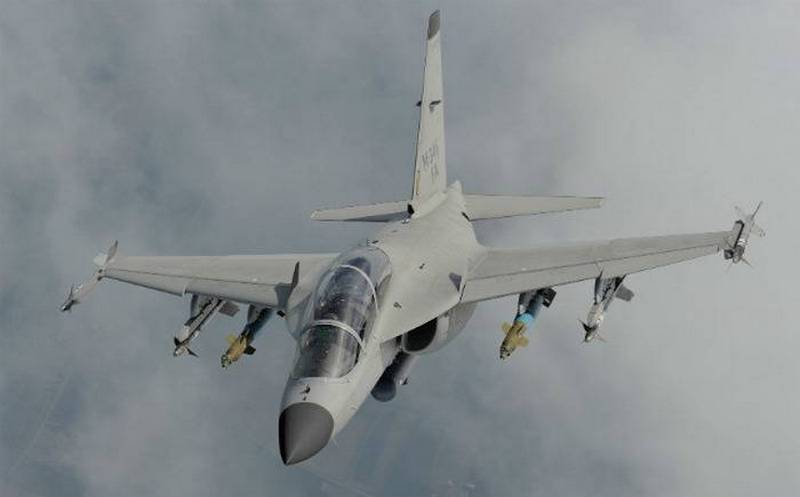 The Ministry of Defense of Azerbaijan has signed a preliminary agreement on the acquisition of Italian combat training aircraft Leonardo M-346 Master. The timing of the signing of a solid contract for aircraft has not yet been announced.
According to the bmpd blog, during the visit of Azerbaijani President Ilham Aliyev to Italy on February 20, 2020, Azerbaijani Minister of Defense Zakir Hasanov signed a declaration under the agreement between the Ministry of Defense of the Republic of Azerbaijan and Leonardo SpA with the executive director of the Italian company Leonardo, in connection with the acquisition of an integration system M-346 aircraft. "
The agreement provides for the acquisition by the Azerbaijani Ministry of Defense of 15 M-346 aircraft, other sources report ten aircraft, but with an option of 15. Leonardo previously demonstrated a third prototype M-346 in Azerbaijan.
The M-346 training aircraft was designed by the Russian JSC A.S. Yakovlev Design Bureau together with the Italian company L'Alenia Aermacchi. Due to disagreements between partners, the development of the model stopped at the final stage, and each of the companies received documentation of the basic version of the future aircraft (glider). After that, both companies released their own models: M-346 (L'Alenia Aermacchi) and Yak-130 (Yakovlev Design Bureau). The first flight of the M-346 took place on July 15, 2004, and its mass production began in 2010. Today, the machine is used to train pilots in Italy, Singapore, Israel and Poland. The length of the M-346 is 11,5 m, the wingspan is 9,7 m. The mass of an empty aircraft is 4,6 tons, the maximum take-off weight is 9,5 tons. The aircraft can reach speeds of up to 1060 km / h and climb to a height of 13,7 km The crew of the M-346 consists of two people.
In total, Leonardo has so far delivered 72 production M-346 aircraft (22 for the Italian Air Force, 12 Singapore, 30 Israel and eight Poland) and has contracts for the supply of eight more aircraft for Poland.