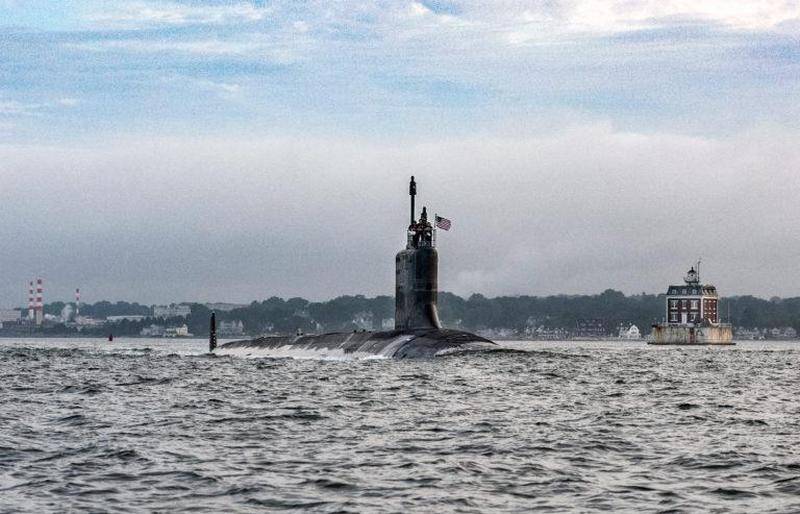 The US nuclear-powered SSN 788 Colorado Virginia Block III submarine returned from its first military campaign with significant damage to the sonar surface. This was reported by the web resource "War Is Boring", which published a photo of the submarine after returning.
According to the resource, the submarine returned from a military campaign on February 20 this year. Upon arrival at the New London Naval Base (Connecticut), the submarine was severely damaged by the hydroacoustic coating of the hull. It is reported that this was the first military campaign SSN 788 Colorado, during which the submarine traveled about 39 thousand nautical miles, operating, including in Arctic waters.
To justify the large damage to the submarine cover, the American web resource claims that this problem exists in all the fleets of the world armed with nuclear submarines, including Russia and the UK.

Damage to the coating on the visible part of the submarine's hull
The USS Colorado SSN 788 Multipurpose Submarine is the fifteenth US Navy Virginia-class submarine. Belongs to the fourth generation, designed to deal with submarines in depth, as well as for coastal operations.
Construction began in 2012. The keel was laid on March 07, 2015 at the North Kingstown shipyard (North Kingstown, a city located in the state of Rhode Island). Launched on December 29, 2016, September 21, 2017 transferred to the U.S. Navy. March 17, 2018 put into operation.
Key Features: Full displacement of 7800 tons. Length 114,9 meters, width 10,3 meters. Speed ​​25 knots. Cruising range is unlimited. Service life 33 years. Drive: S9G reactor. The tests are designed at a depth of 240 meters. The crew of 134 people.