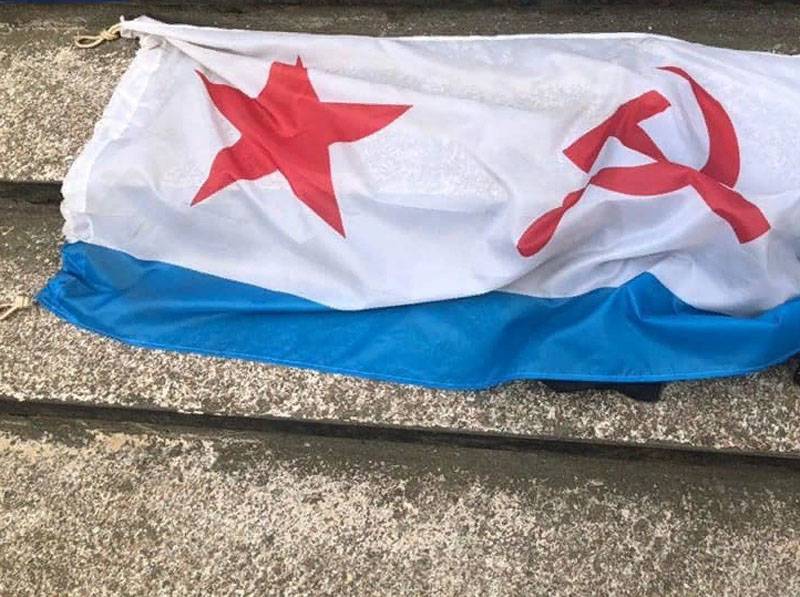 In Odessa, the event that took place on February 23 at one of the beaches of the city is being discussed. A group of men decided to celebrate a holiday on the seashore and unfurled the flag of the Naval
fleet
USSR. But for modern Odessa this act is "illegal".
It turned out that there was a "well-wisher" who photographed the unfurled flag, reported to the police department, telling about the signs of the "criminals" and about the direction in which they left the beach in the Primorsky region.
Odessa police, which for years cannot detain the true perpetrators of the massacre of citizens in the House of Trade Unions, in this case worked much faster. The outfit of the national police advanced towards the beach and after some time detained four men whose appearance fit the description of the applicant.
All four were taken to the police station, where during the inspection they found the same flag of the Soviet Navy, as well as two knives. The knives are allegedly sent for examination for their possible cold suitability.
arms
.
Now the detainees face a fine for an administrative offense - "for using Soviet symbols", as well as a criminal case - for the illegal carrying of knives (this is despite the fact that signs of knives have not yet been revealed at the knives).
Apparently, the one who told the police about the "criminals" now feels like a national hero.
This incident once again testifies to disunity in Ukrainian society.
The comment of one of the inhabitants of Odessa on the Odessa city information portal attracts itself:
What a conscious bastard ... well, straight 38th year ...