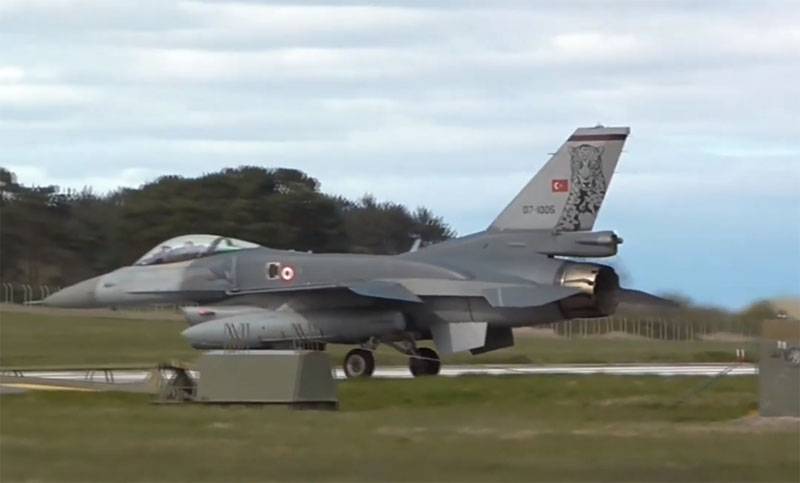 The Chinese portal Sohu published a material in which the author's thoughts on the possible use of military combat by Turkey are presented
aviation
in the sky over Syria. The author reminds Chinese readers that there are currently several options for modern air defense systems in Syria: the Russian S-400 air defense systems based on the Khmeimim air defense system, the Pantsir air defense system, as well as the S-300 air defense systems that were previously delivered to increase capabilities Syrian air defense.
At the same time, the military section of Sohu says that the Turkish Air Force "with special desire could break through the air defense of the SAR." It is recalled that the Turkish Air Force has more than 250 F-16 fighters of various modifications, including the F-16D Block 50+.
From the article:
The F-16, in fact, has a fairly rich experience in aerial combat with Soviet and Russian-made aircraft.
It is recalled that in the spring of 1999, the F-16 fighters of the Netherlands Air Force and the US Air Force shot down two MiG-29 fighters in the sky over Yugoslavia. It is alleged that the F-16 "has never been shot down by a Soviet or Russian-made aircraft." India is ready to argue with this statement, where in a few days they will mark the anniversary of the attack by the R-73 missile from the MiG-21 on the F-16 of the Pakistan Air Force. In India, they say that a Pakistani plane was then shot down.
The author of the material on a Chinese resource writes that if Turkey decides to use aviation massively (F-16), then the Syrian air defense system will not be able to oppose this to anything.
From the article:
For all
history
F-16 fighters shot down more than 60 Soviet-made combat aircraft, including fighters, attack aircraft and bombers.
Comments by Chinese users on this material are striking. Here are a few of them.
Well, if so, then let them try it first.
Russia has a Su-35 there, so they are talking about air defense systems, and we must not forget about aviation.
And if it turns out that Russia also has a Su-57?
Let them better explain why the Turks are fighting on Syrian soil.
And by and large, the author's message about the "breakthrough of the Syrian air defense system" is not entirely clear. The size and location of Idlib province is such that it is not necessary to enter the airspace of the ATS for air strikes. In this regard, the Syrian geography is well known in the Israeli Air Force, striking from outside the Syrian airspace. Therefore, the point is not a "breakthrough of air defense", but what kind of policy they are going to implement in Ankara.