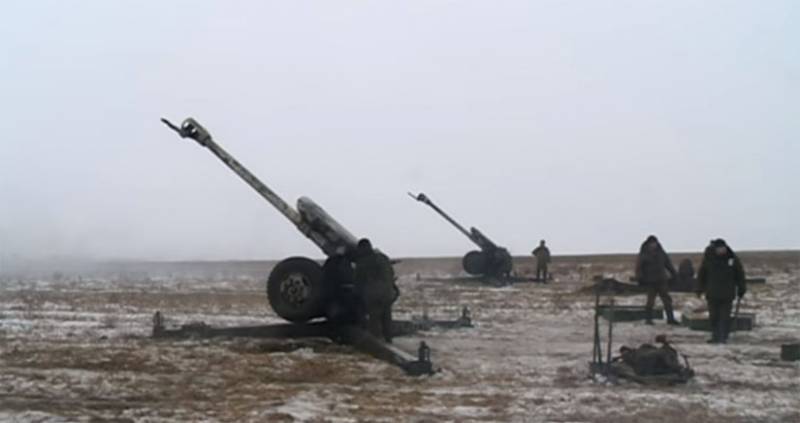 The Ukrainian side once again accused the LDNR forces of shelling. The headquarters of the so-called Combined Forces Operation publishes reports on allegedly "groundless" shelling regularly over the past few days.
This time, the statement is distinguished by a complete lack of logic. So, it is stated that the LDNR forces, which in Kiev are called the "Russian occupation forces", struck at their own positions in the area of ​​the residential buildings of the Vesyolenkoye settlement.
A further statement suggests that the Armed Forces are trying to shift the responsibility for shelling settlements in uncontrolled territory onto the enemy.
From the statement:
Occupants fired from 122 mm caliber barrel artillery (...) Ukrainian soldiers never fire at civilian homes and will not do so. These criminal acts are characteristic only of the Russian occupation forces.
It is further stated that after the shelling of "themselves", the enemy forces (NM LDNR) began shelling Ukrainian positions in the area of ​​Novaya Kondrashovka, firing two dozen shells.
All these statements of the Ukrainian side about the shelling of "their own positions" from the means of large-caliber artillery barrels once again indicate the degree of inadequacy that is inherent in the headquarters of the OOS. These statements generally resemble the situation in 2014, when the Ukrainian
aviation
bombed the center of Lugansk, and in Kiev it was said that the victims and destruction were connected with the "exploded air conditioner".
The day before, from the Avdeevka district of the NM, the DPR sent the Ukrainian side a congratulation on February 23. From a message from a representative of the People's Police Department:
Balloons with leaflets were launched from the Avdeevskaya industrial zone. We know that not all Ukrainian soldiers, some of whom began their service back in Soviet times, support the nationalist policies of the current Kiev authorities. Therefore, we want to remind them that our grandfathers and great-grandfathers fought shoulder to shoulder during the Great Patriotic War, slept in the same trench and ate from the same pot and shed blood together.
On the cards were congratulations and portraits of legendary pilots, air marshals, Heroes of the USSR Ivan Kozhedub and Alexander Pokryshkin.