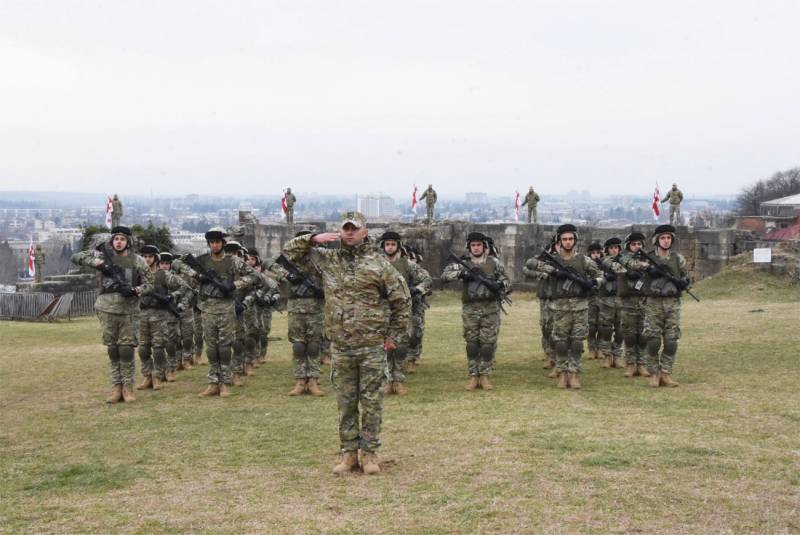 The unsubstantiated statement of the Georgian Prime Minister Georgy Gakharia, who accused our country of organizing "cyber attacks against state and private structures of the country," received the expected conclusion. After a number of diplomatic demarches, very smoothly and promptly carried out by a number of Western countries, primarily the United States and Great Britain, representatives of the American military department entered into business. Well, this, at least, finally makes it clear what the whole provocation was about.
So, speaking the other day on the air of the Georgian edition of Voice of America, Lt. Col. Carla Gleeson, who is the official representative of the Pentagon, made a statement that her department intends to "protect Georgia from threats posed by Russia." According to her, the US Department of Defense will continue to "continue to strengthen security and resilience" in Tbilisi, in which it sees its ally and partner. Ms Gleeson promised to "blame Moscow for activities leading to destabilization," however, without specifying in what form this very "responsibility" should be expressed, according to Washington.
The rhetoric is more than significant, and also, we will be frank, extremely provocative. It is unlikely that the United States does not understand that it is precisely these advances that are accepted as a direct promise of military assistance in the event of an open confrontation with our country that have already prompted the top leadership of Georgia to an irresponsible adventure that has cost many lives. On the other hand, it is entirely possible that Washington is striving to implement the same scenario, for some reason believing that this time events will develop in a different way.
The words read on the sidelines of the 56th Munich Security Conference by Turkish Foreign Minister Mevlut Cavusoglu to reporters who officially represented Tbilisi at this event can also testify to the readiness of our country's ill-wishers to play the "Georgian card". The head of Ankara's foreign affairs ministry declared his state's commitment to expanding the North Atlantic alliance precisely at the expense of countries that have the status of "NATO graduate students" and are generally actively seeking accession to this military-political bloc. Without a doubt, it was primarily Georgia and Ukraine, with which Turkey's military cooperation has recently been developing more and more actively - and not at all to Moscow's joy.
In connection with all the points mentioned above, it is perhaps worth being especially wary of any situations that may give direct reasons for anti-Russian attacks and provocations, including military ones. As a specific example of these, the Noble Partner 2020 international exercises, to be held in September this year at the Vaziani Georgian training ground, can be called NATO-sponsored. Five countries of the alliance will take part in the maneuvers: Great Britain, Germany, Slovenia, Turkey and the USA, as well as its partner countries: Georgia, Ukraine and Armenia. It is planned to attract military contingents with a total number of up to 3 thousand people, the main purpose of which, according to statements made during a recent conference on planning this event in Tbilisi, will be "developing skills for the NATO Response Force, as well as deepening cooperation and coordination of joint actions with Alliance forces. "
It's good, if only everything is limited to this, and the "muscle game" at the borders of our country does not develop into attempts to test their strength in one way or another. It will be extremely sad if the tragic events of 2008 did not become a lesson for those who today are ready to risk their repetition, counting on the very ephemeral promises of overseas "friends".