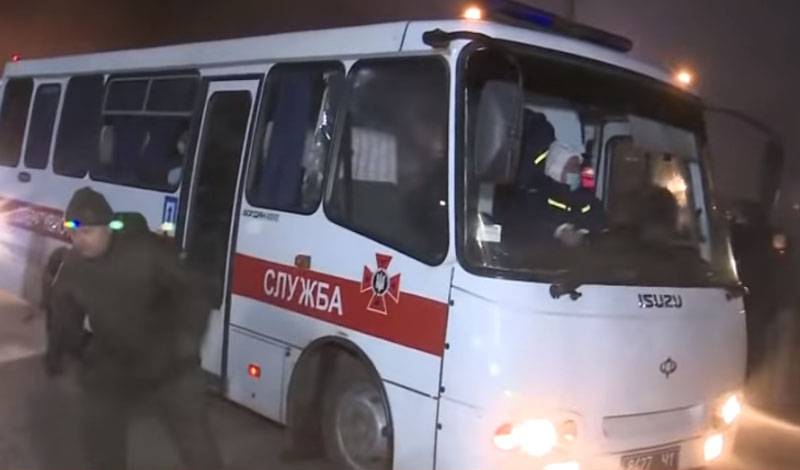 Evacuated from China, Ukrainian citizens spoke out about what kind of meeting compatriots had arranged for them in their homeland. The general message is approximately as follows: "many compatriots are real savages."
Recall that buses with evacuated Ukrainians for a long time could not deliver people to the place, because local activists blocked the road, shouting words that people should be taken "to Chernobyl." The vehicles were stoned.
In the end, the buses were forced to stop virtually in the middle of the field, and people went on foot to the quarantine location. Among them is a group of 17 dancers who went to the competition to China from Krivoy Rog.
The director of the dance collective wrote in connection with the current situation a post on the social network:
It's hard to keep quiet when you need to say! My 17 artists from Kryvyi Rih flew from Wuhan to Ukraine. All are healthy, all is well, no temperature, no symptoms. There is a shock from the road, negativity and savagery of people! I am ready to go to my guys and spend time with them in quarantine, I'm not afraid!
Recall that those evacuated from China, where the epidemic of coronavirus manifests itself, must be quarantined for 2 weeks in the medical center of the Ministry of the Interior New Sanzhary. There, activists rally for several days, claiming that evacuated Ukrainians should be taken to another place.
One of the protesters:
And if we all catch this coronavirus here, who will help us? No, let them go to another place. My relatives work in a medical center, there are definitely no drugs against any new coronaviruses.
Eventually, clashes with the police began in Novy Sanzhary. A total of 24 people were detained. Allegedly, they face up to 8 years in prison.
In Ukraine, the situation with people evacuated from China was called the "coronavirus maidan."
Even on the western channels, broadcasting footage from the Poltava region, people are perplexed about the virtually causeless aggression of people who opposed their compatriots.