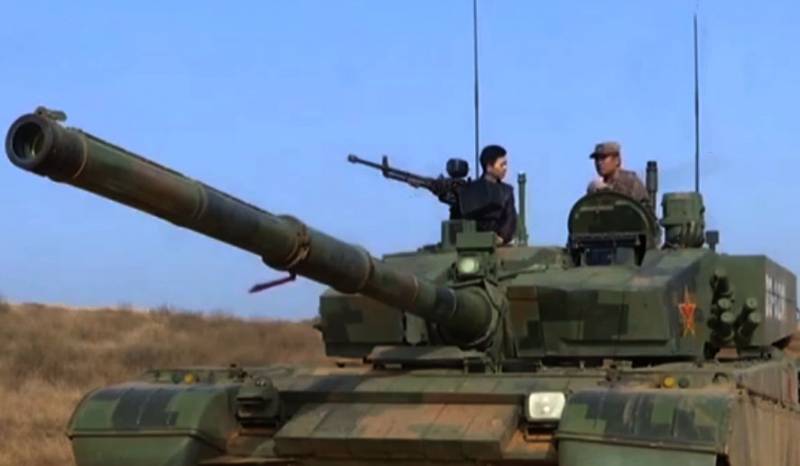 In China, discovered what was called a significant flaw
tanks
Type99A. This is a modern PLA tank belonging to the 3rd generation. At the moment, the number of such versions of tanks in the Chinese army exceeds 300 units (in addition to more than 600 Type99 tanks).
During recent simulations with tank crews, electronic combat training was carried out on targets, among which were below the plane of the tank. In other words, Type99A armored vehicles fired while in this simulation at prevailing heights relative to targets.
The reports say that when shooting, when you had to lower the gun to the maximum possible angle (and for the 125 mm gun ZPT-98 it is 6 degrees), problems arose. The recoil in this shot led the tank to "bounce", "lose its target", roll back on a rocky site, and ultimately the crew had to spend more time to get the next shot accurate.
In this regard, it is stated that in such a situation, the Type99A tank would become an easy target in a real battle for the enemy, if even the most advanced ATGMs were in the arsenal of that.
Sina published material saying that Chinese tank manufacturers should pay attention to the design of the American-made Abrams tank gun. At Abrams, the tilt angle is from -10 to +20 degrees, in contrast to the range from -6 to +14 degrees for Type99A. It is noted that the Abrams tanks behave more stable when firing with a negative slope of the gun.
In the expert community of China, controversy erupted on this issue. In particular, it is noted that "there was an isolated case, which was associated with the fact that the firing was carried out from a conventional rocky site, where stability is initially extremely difficult to provide."