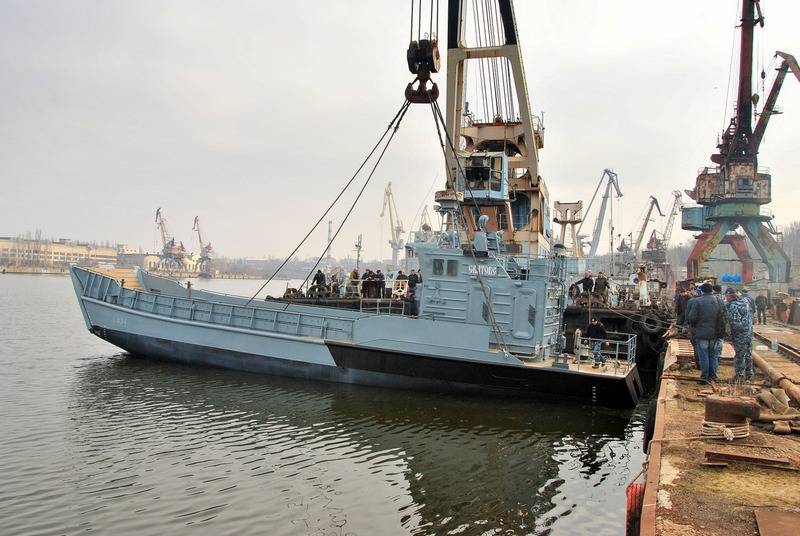 The naval forces of Ukraine will soon be replenished with another ship. As the Ukrainian media write, in Nikolaev the Svatovo landing boat was launched at the Nikolaev Shipbuilding Plant.
According to the data provided by the Ministry of Defense of Ukraine, the transfer of the boat to the Ukrainian military
fleet
planned at the end of March this year, after the signing of the acceptance certificate of the ship by the military commission. It is reported that during the repair on the boat the hull and the outer skin were completely restored, the engine, screw-taxiing and anchor-mooring systems, landing ramp mechanisms, electromechanical part, etc. were repaired.
We will remind that this boat "Svatovo" arrived for repair in Nikolaev on August 18, 2015, in 2018 it was reported about the deadline for repairing the boat and the renewal of the contract for its restoration.
The landing ship "Svatovo", Project 1176, code "Shark" (Ondatra class - NATO), is designed to transport and land personnel of naval assault forces and special forces.
The boat has an open hold and a bow ramp. High maneuverability is provided by two propellers in separately controlled rotary nozzles. This allows you to successfully perform landing operations off the coast, unload on an unequipped shore. It is adapted for transportation of loaded wheeled and tracked vehicles, which independently go ashore along the bow ramp, and can tow other boats. It can drop one medium tank or 20 paratroopers with light weapons or 50 tons of cargo.
General specifications:
Displacement: 107,3 tons
Length: 24,5 meters
Width: 5,2 meters
Draft: 1,55 meters
Powerplant: 2 3D6 diesel engines of 300 k.s.
Speed: 11,5 nodes
Crew: 6 people