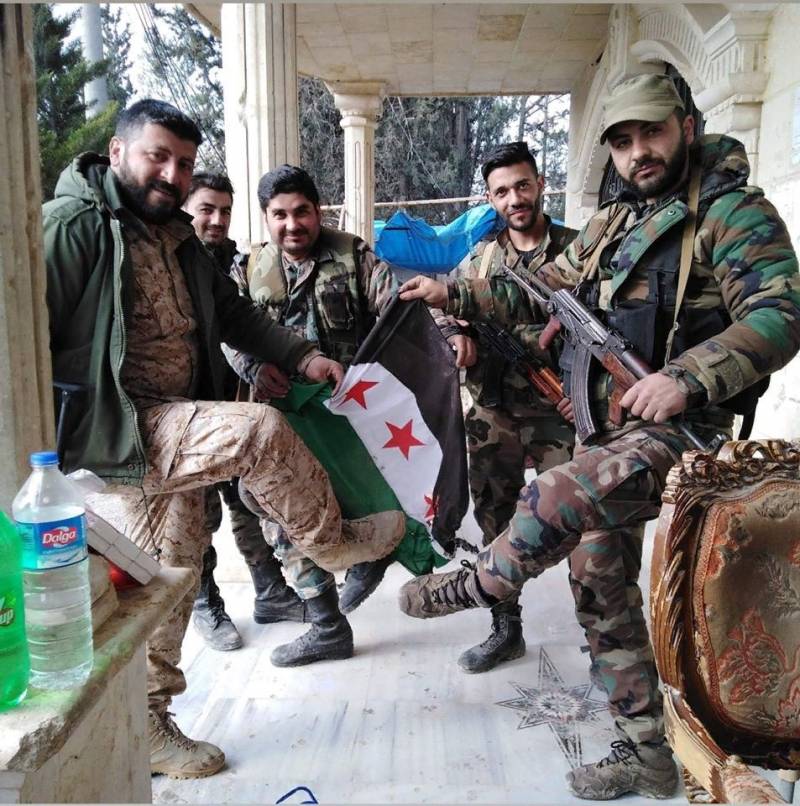 SAA fighters wiped boots with the flag of anti-government forces
The Syrian army continued its assault on militant positions, despite threatening rhetoric from Ankara. Recall that the President of Turkey has repeatedly stated that the army will strike at the "forces of the regime" if at least one Turkish soldier suffers in Syria. On the eve of Recep Erdogan announced that the start of the Turkish operation in Idlib is only a matter of time. True, he did not say a specific date.
Against this background, the Syrian government forces carried out advancement in several directions at once. The greatest success of the CAA was achieved south of Sarmin. In this settlement, located in the province of Idlib, there is one of the so-called "observation posts" of the Turkish army. Moreover, the Turks formed this post in the past few weeks - after the transfer of special forces and armored vehicles to this area.
Syrian troops advanced about 4-3 km along the M4 highway. At the same time, the advanced CAA forces are located only 200-300 m from the southern outskirts of Sarmin. Bypassing the forces of Turkish special forces from the south, Syrian troops advanced in the direction of the village of Kaminas, which is southeast of the city of Idlib. Idlib itself is about 12 km away. The advance of the ground forces was supported by the SAR Air Force, which attacked the positions of the militants in the area of ​​the mentioned Kaminas.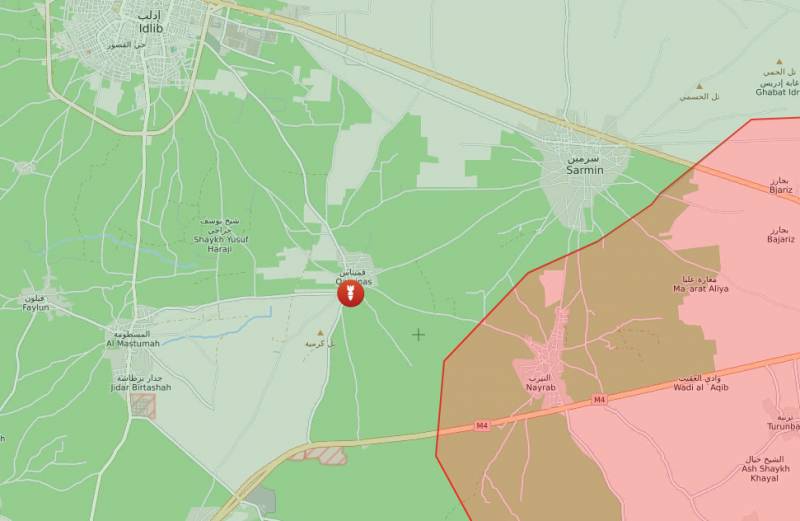 At the same time, several SAA assault detachments were able to occupy a section of the M4 highway west of Nairab. This section allows you to strike at militants from the rear, and can also make it possible to take Sarmin in a half ring.
The air force was hit by militant positions in the area of ​​the city of Ad-Dana, located a few kilometers from the Turkish border. The attacks were carried out at the moment when the militants tried to regroup and advance eastward - towards Arkhab and the western suburbs of Aleppo. This promotion was frustrated.