Polaris offers its optional 4x4 crew car MRZR-X for a variety of American autonomous vehicle programs
The list of combat missions that small advanced units have to solve is constantly expanding. What equipment and equipment, full-time and currently under development, will ensure their independence and readiness to perform the full range of operational tasks?
Future theaters of operations are likely to be dominated by expeditionary task forces operating in isolation from the main forces, in connection with which the armed forces are looking for solutions that can support small battle groups (NBG) in difficult and harsh conditions.
To this end, the efforts of industry and ministries of defense of many countries are aimed at designing, developing and deploying technologies capable of supporting the NBG at the lowest tactical level for long periods of time without relying on the main and advanced operational bases.
Of particular interest are areas such as energy supply, vitality, mobility and communications. All of them can be considered critical for the successful implementation of a variety of expeditionary operations, which can range from peacekeeping support, humanitarian aid and assistance in natural disasters to long-range reconnaissance and attack missions.
However, the supply process can often be quite risky, because even with covert operations, the adversary can detect helicopters, ground vehicles and surface ships carrying food, water and fuel.
In search of energy
According to the U.S. Army's document "High Preparedness: Modernizing the Army's Energy Concept," published in July 2018, energy remains the key to the success of dismounted and motorized NBGs, striving to operate for a long time without the support of traditional military bases that have been "cemented for almost two decades" foundation "of counterinsurgency operations in Afghanistan and Iraq.
"With regard to energy security, our soldiers and their full-time combat gear and equipment are more independent than ever," the report says. "This is necessary to increase the readiness of soldiers and equipment, as technologies develop and less resources are needed to perform the same tasks, fuel consumption is less, battery life is longer." This shortens the supply chain and increases the firing efficiency of soldiers and units while increasing their range. " As the Minister of Defense explained in this document, "ensuring the uninterrupted operation of water and energy sources is a vital component of the proper functioning of all components of the military force."
In accordance with this, the structures of the US Department of Defense are implementing various programs to determine the necessary energy and supply capabilities to support the NBG. For example, in June 2019, the Marine Corps's Weapons Development Authority (ILC) published requirements for a Squad Water Purification System (SWPS), which is described as "a human-portable system capable of supporting military operations with drinking water from sources of fresh and brackish water, and also to simplify the cleaning of toxic industrial substances. "
The system, which should weigh less than 5 pounds (2,27 kg) and fit in a soldier's satchel, will allow Corps units to operate for long periods of time without being tied to larger and more permanent water supply systems of large operational bases.
According to this requirement, the SWPS system must be a scalable solution that can be configured for specific environmental conditions, and in order to meet the tactical requirements of the NBG, it must also have low acoustic signatures of less than 15 dB and a zero visual signature of three meters.
The requirement also provides for increased levels of reliability and temperature resistance, reduced installation and disassembly times, and compatibility with other US ILC equipment. The selected equipment will work most of the time at temperatures from 0 to 38 ° C, for the entire service life of one non-chemical filter, it should clean about 8000 liters of water from "simple organisms, bacteria and viruses".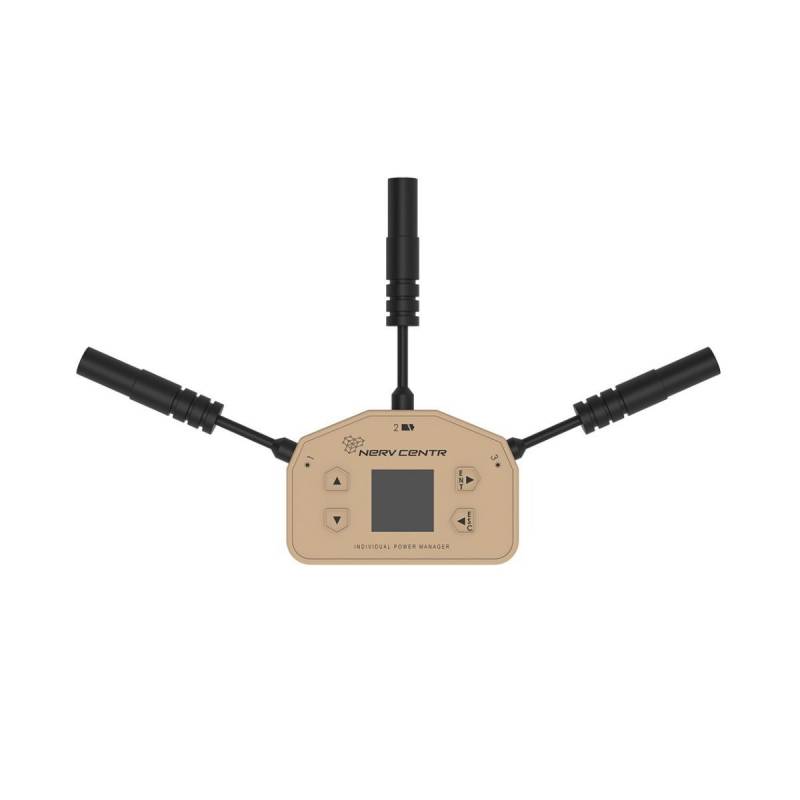 The IPM system, which can serve three devices at the same time, was developed for soldiers involved in expeditionary operations
Easy energy management
During the performance of expeditionary tasks in order to optimize and increase the combat effectiveness of the NBG, equipped with a large number of technologies for operational management, reconnaissance, information collection and target designation, it is very important to have a sufficient amount of electricity.
Currently, soldiers need energy sources to power end-user devices, including programmable radio stations, optical sights for
weapons
, satellite phones, GPS receivers, tablets, wearable computers, medical equipment, power tools, batteries for drones and control systems, not to mention specialized sensors and solutions involved in operations lasting up to three days.
Revision Military, which bought Protonex, an energy technology specialist, in October 2018, presented its latest device at the DSEI exhibition in London in September 2019, specifically designed to support individual users in the NBG.
Following the concept implemented in the SPM-622 Nerv Centr Squad Power Manager line of energy management devices designed to provide power to the NBG as a whole, Revision has developed the individual Nerv Centr IPM (Individual Power Manager) power management unit.
Sean Gillespie from this company explained: "It will allow the user to focus on his task and not worry about power, since IPM provides the ability to be powered from virtually any energy source and use it to operate its electronic equipment." He also confirmed that prototypes of technology demonstrations are already being tested and evaluated by various potential customers from several countries.
With three bi-directional seven-pin Glenair Mighty Mouse connectors, the IPM is capable of "collecting" energy and also charging electrical devices "on the go", as a result of which soldiers always have efficient equipment at hand during the task.
An IPM device measuring 9,4 x 6,4 x 1,7 cm weighs only 170 grams, which minimally affects the overall combat load of a dismounted soldier. The device also includes an LCD display showing all energy levels and the remaining operating time of the supported systems, plus a control panel for switching between different displays.
According to the company, the IPM device is able to work with more than 200 types of batteries and other electronic equipment, which allows you to perform a wide range of tasks and satisfy most of the needs of users.
The IPM device is capable of drawing power from ground outlets and
aviation
equipment, solar panels, primary and secondary batteries, redirecting energy to personal devices, including programmable radios. Gillespie also added that IPM device integrated software does not require any reprogramming.
"Soldiers rarely get into a situation where they cannot charge the battery or be powered by the battery. Energy sources, for the most part, will be available. The IPM device, being a typical solution with automatic configuration, reduces weight, streamlines logistics, receives energy from any source available on the battlefield and, among other things, keeps your equipment in working condition when it is most needed, "Gillespie said. "The IPM-certified MIL-STD-810 and -461 standards are capable of operating at temperatures from -20 to + 60 ° C, and also withstand immersion in water to a depth of one meter."
Service life steers
Power experts are actively developing batteries with extended life to support the requirements for the duration of ground transportation tasks in difficult environmental conditions.
In October 2018, Epsilor introduced its NATO 6T battery at AUSA in Washington, announcing that it has the highest energy density in its class.
The 6T NATO rechargeable lithium-ion battery is designed as a "seamless" replacement for existing lead-acid batteries. It increases the capabilities of vehicles in the "silent monitoring" mode almost three times and at the same time increases the life of the energy source, as stated in the company, with "hundreds and thousands of charge cycles."
Available in two form factors (ELI-52526-A 170 Ah and ELI-52526-B 165 Ah), the 6T NATO batteries feature self-balancing, automatic recharging and charge current management, which allows you to integrate this technology into both existing machines and into next-generation cars.
Each battery weighs 26 kg, and its strength meets the standards of MIL-STD-810G and -461G. The company says that "the new technology, compared to existing solutions, provides significantly more energy in a device of less volume and mass. The new 6T batteries are capable of delivering four times more energy, weighing half as much as modern 6T lead-acid batteries.
Batteries are also available in a fully sealed configuration for installation on floating machines. The company explained that its battery technology can be used on surface ships and observation posts, in mobile modules, as well as in systems with renewable energy sources and microenergy networks.
"This technology dramatically changes the operational capabilities of armored vehicles and the methodology according to which military organizations handle their stocks of batteries for military equipment," a company representative at AUSA said. "6T NATO batteries make it possible to exclude the expensive and not always timely procedure for installing batteries, since new batteries are installed on machines during their manufacture and should only be replaced during intermediate (medium) equipment repairs."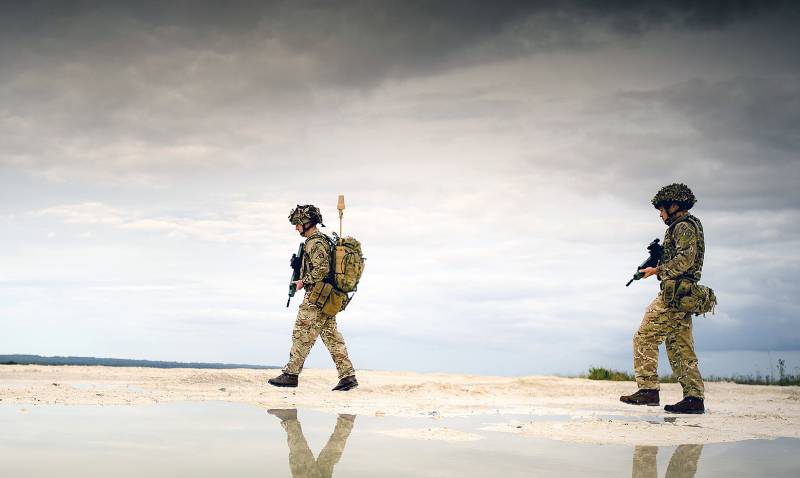 In January 2019, Spectra's SlingShot was selected to experiment with the US Army Expeditionary Force in Fort Benning
Space for maneuvering
The need for actions outside the service area of ​​traditional advanced operational bases also significantly increases the need for improved mobility throughout the entire combat area. As a result, commanders are forced to consider and use a number of solutions, ranging from optionally manned and uninhabited ground vehicles to manned cross-country vehicles, carrying personnel, injured or supplies, and even used to divert enemy attention.
Among them are the Polaris Government and Defense MRZR 4x4, supplied by the armed forces of many countries to support operations such as the evacuation of the wounded, direct combat and reconnaissance.
According to company spokesman Jed Leonard, the deployment of optional Polaris MRZR-X autonomous optional crew cars will increase the range of units to perform various tasks.
He explained on this subject:
"We are currently developing promising platforms, it is very important for us to ensure the simplicity and flexibility of the base platforms, and therefore their capabilities can be maximized in the field. Polaris ultralight cars are making an increasing contribution to improving combat efficiency, we are increasing the power reserve of our platforms, installing various power drives and integrating systems with large power generation to take full advantage of the latest sensor systems and technologies. "
Currently, the MRZR-X, proposed for the US Army's Universal Vehicle Squad Multipurpose Equipment Transport (SMET) program, was designed in collaboration with off-road robotics and autonomy specialists - Applied Research Associates (ARA) and Neya Systems.
According to Polaris, in May of last year, it introduced the MRZR-X at the University of Texas with the goal of "demonstrating the modularity and capabilities of the base platform and technology" in support of the US Army's RCV-L (Remote Combat Vehicle- Light). "The demonstration is due to the fact that the army analyzed its modernization activities, due to a change of concept and the transition to confrontation with almost equal rivals, as well as the desire to integrate even more autonomous and other capabilities into its combat vehicle fleet.
A demonstration at the University of Texas also showed the ability of the MRZR-X to independently launch and return UAVs equipped with various target loads for monitoring and clearing routes in front of transport convoys, as well as target designation in night and day conditions.
The stand-alone MRZR-X kit includes a robotic operating system and software interfaces, which will provide customers with future flexibility in configuring the platform for a wide range of tasks and target loads.
"The MRZR-X platform, providing the NBG with the same off-road patency as the crewed MRZR variants, was created as a multi-tasking vehicle that increases the mobility of the squad and reduces the load on the soldiers",
- repeated his thought Leonard.
The MRZR-X car has dimensions of 3,59x1,52x1,86 m and its own weight is 879 kg, it is able to carry cargo weighing up to 680 kg at a maximum speed of up to 100 km / h. The machine can also be transported in the cargo compartment of the CH-47 helicopter and the V-22 tiltrotor.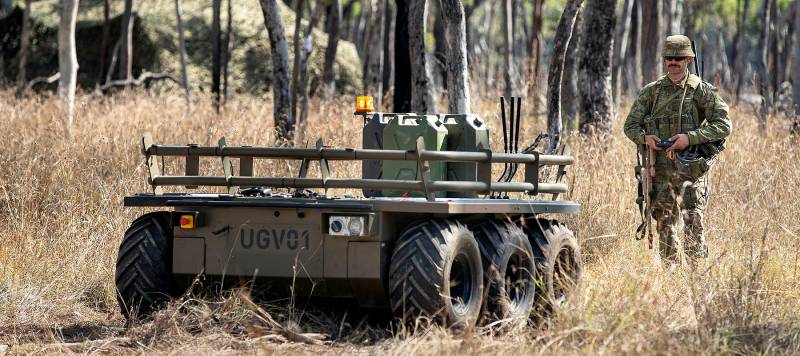 At the Talisman Saber exercises in 2019, the Australian army evaluated the Praesidium Global MAPS 6x6 for the transport of various cargoes
Australian adaptability
Demonstrating the mobility of new platforms is not limited only to the United States. For example, in July 2019, during the Talisman Saber exercise in Queensland, the Australian Army tested Praesidium Global's Mission Independent Adaptive Platform System (MAPS) bhb (Mission Adaptable Platform System) in support of expeditionary operations.
On the MAPS apparatus, operated in the 9th support battalion and the 2nd medical battalion, new principles of combat use in advanced NBG were worked out.
With its own weight of 950 kg, this platform is able to take a payload of up to 500 kg. According to army officials, MAPS did a good job of the day-to-day tasks of the units involved in the exercises. The MAPS device measures 2,3x1,86x0,98 m, runs on a 48 Volt battery, lasts up to 6 hours, and the maximum speed on the battlefield is up to 8 km / h.
"The more we exploited it, the more we found ways to integrate it," explained the representative of the developer. In particular, the autonomous MAPS was used to transport water, food, fuel and ammunition, as well as special equipment. He could not confirm whether the platform was used to transport the wounded, but noted that the platform could perform additional tasks, including reconnaissance.
Temporary position
Having the opportunity to take part in expeditionary operations, the NBG fulfill their tasks using a special temporary infrastructure, unlike the conventional forces that used stationary structures during the recent counterinsurgency operations.
One solution is conventional shipping containers, they can easily be transported by air, land and sea. On their basis, it is possible to build advanced tactical operational centers, medical centers, complexes for accommodating personnel or special tasks.
In December 2018, for example, the Netherlands Defense Procurement Organization issued a $ 100 million contract to the Marshall Aerospace and Defense Group for the supply of approximately 1400 deployable containers for the country's armed forces.
The first batch of containers was delivered in July. According to the Organization, they will be used in training programs for personnel. In addition, the contract provides for the supply of containers for operational management, medical purposes, as well as refrigeration units and storage warehouses.
Also an equally important element of semi-permanent (temporary) bases of small units is lighting. For example, Pelican's RALS (Remote Area Lighting Solution) is an easy-to-deploy container system designed to illuminate any large site in emergency situations.
According to the company, the range of modular and scalable solutions includes the 9460 RAL system, which is packaged in a durable container. Installation of two telescopic LED poles takes the minimum time with the "minimum noise".
The 9460 RAL system allows the end user to select the light intensity, while the intelligent control system adjusts the amount of light according to three pre-set power levels. The system provides a power output of up to 12000 lumens and can be remotely controlled via a Bluetooth connection. The rechargeable battery pack also eliminates any startup need from noisy generators; the system can also be operated from a conventional household electrical outlet with power outlets.
The larger 9470 RAL system has a similar design, but it includes four telescopic LED poles and the same USB connectors as the 9460 RAL system, which allows you to connect additional peripherals.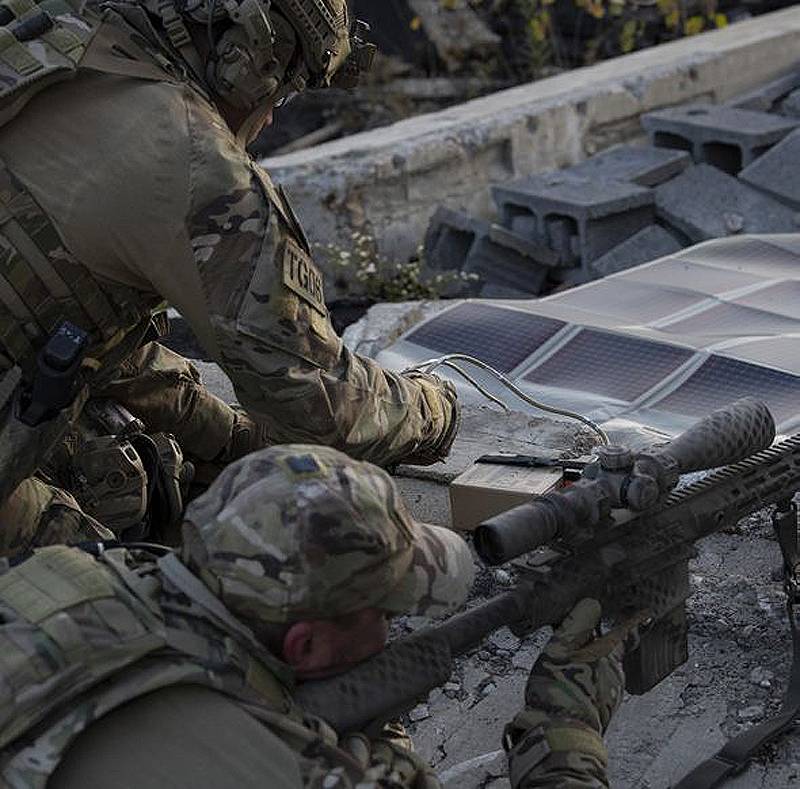 Revision Military's Individual Power Manager can take power from a variety of sources, including sun blankets
Case study
In addition, NBGs must be able to quickly and safely transport sensitive equipment by land, water, and air, using durable boxes for special equipment, including drones, operational control systems, and collecting information and weapons.
An example is the robust Nanuk 933 Drone Case box, which was specially designed to transport DJI Phantom 4 quadrocopters. The 51x41x25 cm box, glued with foam inside with special cutouts, protects the device and its control station.
A waterproof floating box with a total weight of just over 4 kg (without UAVs) can be fixed in the upper luggage compartment of the passenger compartment if the unit needs to be transferred by a non-military aircraft.
Finally, expeditionary NBG will always need communications, in some cases with a minimal or non-stationary communications infrastructure, with coverage of vast territories.
Industry is also responding to such needs. For example, Spectra Group created the SlingShot system, which, after several years of successful operation with special forces around the world, began to be successfully deployed in ordinary units involved in expeditionary operations. A company spokesman said SlingShot technology provides smaller units with simplified access to satellite communications.
SlingShot is essentially an antenna that can integrate existing tactical VHF radios into a satellite communications network to provide real-time horizontal communications. The system provides NBG voice messages and data with a low latency through the Inmarsat I-4 network. The company representative confirmed that the SlingShot system is available in two form factors, in a portable or portable version.
In addition to special forces, users of this antenna are traditional units, for example, the 24th Expeditionary Battalion of the KMP, the US National Guard, and motorized infantry brigades.
The SlingShot system is powered by lithium-ion batteries and lasts up to 24 hours on a single charge. At a tactical level, SlingShot allows commanders to establish contact with coalition partners and lower echelon units, which could not be imagined in the past.
According to the official documents of the army, with the help of this system it is possible to create a uniform tactical network that allows for well-organized command at each stage of a joint operation, starting from the place of permanent basing, preparing for battle and ending with the fighting itself.
"Given the geographic reach of modern military personnel, planning authorities point to satellite communications as a prerequisite for their expansion. Since you have problems with distances, whether it is the Middle East, Europe or other areas, you can't just contact the post or some base, because direct visibility is limited. Therefore, in this case you must rely on the satellite. "
As the armed forces strive to optimize their expeditionary capabilities, military leaders of various levels must tirelessly increase the combat effectiveness of small units due to the widespread introduction of the latest technologies, which will significantly reduce the physical and cognitive load on the soldier.