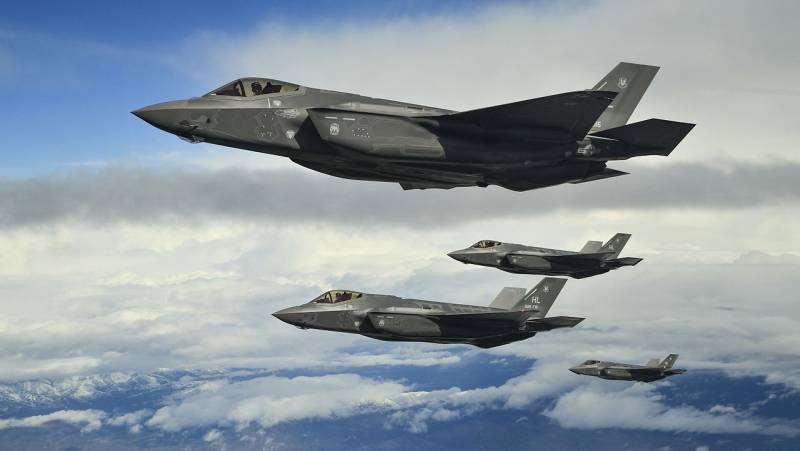 Fighter F-35. Their ammunition can cost millions of dollars. Photo US Air Force
Currently fighting
aviation
The USA is engaged in several operations in different regions. Its planes and helicopters regularly carry out sorties with the aim of hitting certain objects, for which a wide range of aviation weapons is used. In addition, practical ammunition training is provided. At the same time, modern TSAs do not differ in simplicity and cheapness, as a result of which the Pentagon's military work costs considerable amounts.
Combat expenses
Currently, US aviation is engaged in two combat operations in different regions. In 2014-15 The Pentagon launched Inherent Resolve and Freedom's Sentinel operations in the Middle East and Afghanistan. An important component of these operations is the identification and destruction of various ground targets of the enemy. Almost the main tool for solving such problems are combat aircraft and helicopters, as well as modern TSA.
The activities of the air forces of the Air Force, Navy, and KMP at various theaters of operations are distinguished by a rather high activity and a corresponding expenditure of ammunition. The Pentagon regularly publishes general statistics of this kind, which makes it possible to draw up a detailed and indicative picture.
From the beginning of 2014 to January 2020, more than 46,1 thousand sorties were carried out as part of Freedom's Sentinel operation. In more than 6,9 thousand sorties, an airplane or helicopter used
weapon
. In total, more than 24,1 thousand TSA units were spent. Work in Iraq and Syria was more intense. Since 2016, over 71,6 thousand sorties were completed, of which 24,3 thousand were accompanied by the use of weapons. The total consumption of ASP is more than 83,8 thousand units.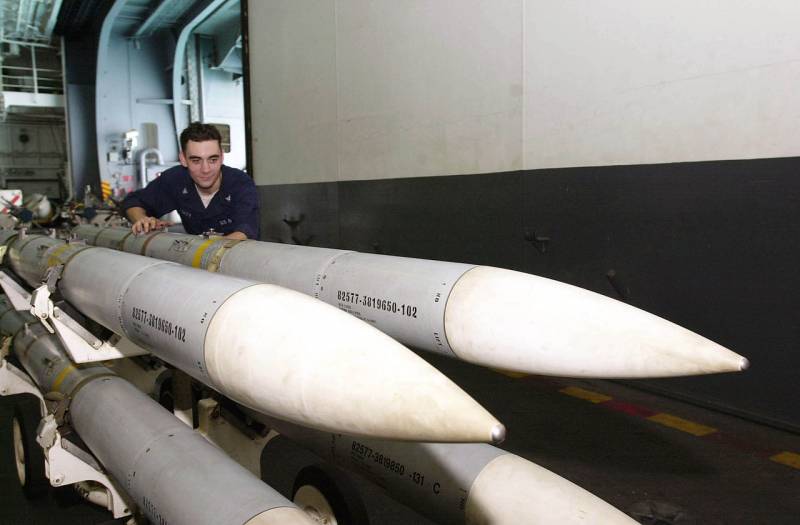 Air-to-air missiles AIM-120 AMRAAM. US Navy Photos
In total, for more than six years, US aviation carried out more than 117 thousand sorties and used up almost 108 thousand of ammunition. This number includes both guided missiles and bombs of various types, as well as unguided weapons and shells for aircraft guns. Nevertheless, even taking into account the relatively cheap and massively used shells, the available statistics look very interesting.
Dynamics Costs
The intensity of departures and the use of TSA by all types of US military aircraft varies from year to year. Nevertheless, according to some indicators, a certain leveling has been observed in recent years, although the rest continue to fluctuate sharply. Consider similar results in recent years and the first month of this year.
In 2018, most of the combat work was carried out as part of Operation Inherent Resolve. 16056 sorties were carried out, 1591 of them with the use of weapons. The total consumption of ammunition of all types exceeded 8,7 thousand units. As part of the Freedom's Sentinel in the same year, they flew less than 8,2 thousand sorties (more than 960 using weapons) and used 7632 munitions. Total, 24252 flights and more than 16,3 thousand TSA units per year.
In 2019, activity in Syria significantly decreased - 13,7 thousand sorties, including 976 using 4729 weapons. In Afghanistan, no noticeable change has occurred. The number of sorties increased to 8773, however, weapons were used more than 2400 times - with a consumption of 7423 units. Thus, the total number of departures on two turboprop engines has not changed much, and the consumption of TSA has decreased to 12,1 thousand units.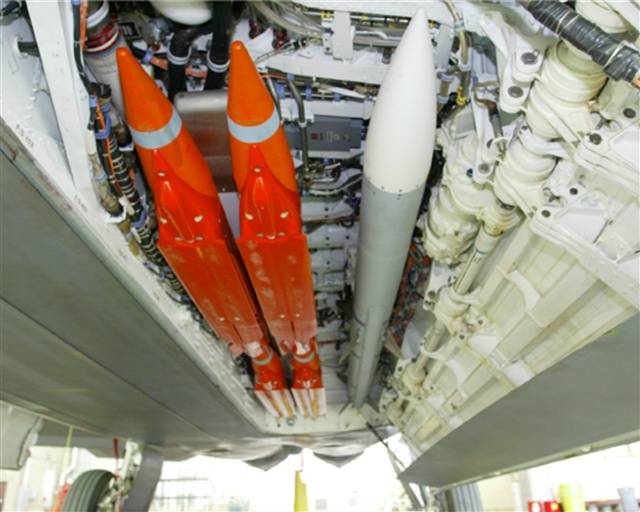 F-22 fighter cargo bay: several million on internal suspension. Wikimedia Commons Photos
For the first month of 2020, American planes performed more than 1000 flights over Syria and used weapons 8 times. At the same time, 68 munitions of all types were used up. During the same period, 633 sorties and 129 firing with a consumption of 415 weapons were carried out in Afghanistan. Such rates of combat work are generally consistent with observed trends. If they remain unchanged, then 2020 in terms of overall indicators will not seriously differ from previous periods.
Procurement organization
To compensate for the TSA costs, the armed forces have to purchase new products of all classes. In connection with the adopted course towards the widest possible use of controlled high-precision systems, such purchases do not differ in low cost and form a significant part of the military budget.
The purchase of TSA and other "consumables" for military aviation is carried out by various departments. So, the interests of the air force are provided by the Air Ministry. Naval Aviation and Aviation Marine Corps, in turn, depend on the activities of the Ministry of the Navy. Also, purchases are made through the Army, which has its own aviation.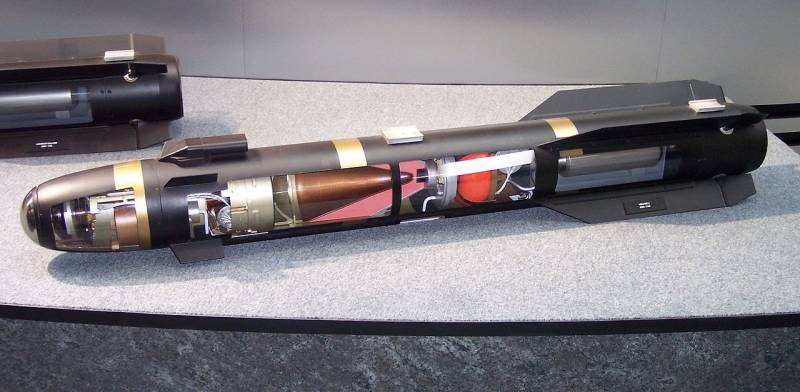 Model missile AGM-114. You can consider units worth thousands of dollars. Wikimedia Commons Photos
The cost of purchased products of the same type may vary in different contracts. The price of a rocket or bomb depends on the modification, quantity ordered, delivery time, etc. For example, procurement under the defense budget and ordering under the Overseas Contingency Operations articles can also affect the cost of weapons.
The other day, the online edition of The War Zone published interesting information about the cost of the main US-made TSA. These data are taken from the draft military budget for the next 2021 financial year. In a few months, the project will go through all stages of consideration and can be accepted for implementation.
In monetary terms
The Pentagon plans to purchase a number of air-to-air guided missiles next year. We are talking about products of only two types in several versions. The purchase of missiles AIM-120D AMRAAM. The Air Force will purchase such weapons at $ 1,095 million apiece. The price for the Navy and ILC is $ 995 thousand.
It is also planned to purchase AIM-9X Sidewinder missiles in several versions. The average purchase cost of products of versions AIM-9X-2 Block II and AIM-9X-3 Block II + is given. The Naval Ministry will pay $ 430,8 thousand per unit, while the Air Force Ministry will pay $ 472 thousand.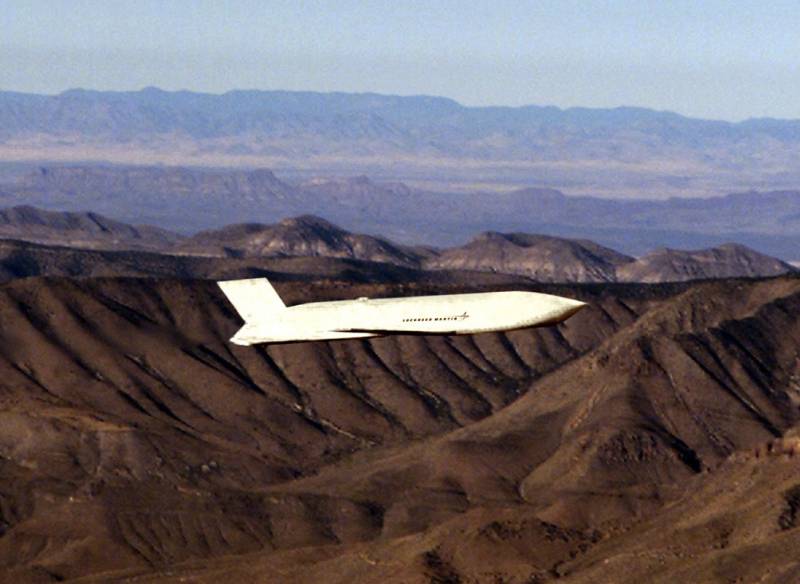 Air-to-surface missile AGM-158 JASSM in flight. Photo US Air Force
Procurement of air-to-surface missiles AGM-114 Hellfire will continue. The Air Force is going to order several modifications of such a missile with an average cost of $ 70 thousand per unit. The army plans to order this weapon at an average price of 76 thousand. Plans for the Navy are bolder - his new contract will reduce the cost of missiles to $ 45,4 thousand.
No less interesting is the situation with the future purchase of anti-ship missiles AGM-158C LRASM. The Air Force plans to purchase it at $ 3,96 million per unit. The Navy is going to achieve significant savings by reducing spending to 3,518 million per rocket.
Considerable funds will be allocated for the purchase of guided bombs. The Air Force and Navy are going to replenish the stock of products GBU-39 / B SDB II. Each such product for the Air Force will cost 195 thousand dollars, for the Navy and ILC - almost 221 thousand. Alteration of cash bombs under the JDAM project will cost $ 21 or 22,2 thousand for the Air Force and Navy, respectively.
RCC AGM-158C LRASM and its carrier - fighter F / A-18E / F. US Navy Photos
The quantities planned for ordering products of these types and, accordingly, the total cost of all contracts have not been published. However, knowing the order of numbers, we can assume that each of the new contracts in the procurement of FY 2021 will cost at least tens of millions of dollars. In addition, the military budget should provide funding for maintaining the combat readiness of previously purchased TSAs available in arsenals.
Expensive war
For obvious reasons, the Pentagon does not publish accurate statistics with details of sorties and a layout by type and number of TSA used. Nevertheless, the available data add up to a very interesting picture. Even approximate estimates allow us to imagine what funds are spent on ensuring the defeat of various goals.
In just the first month of this year, US military aircraft completed almost 1650 sorties and spent more than 480 ASA units. Depending on the types and quantity of ammunition, such an expense can be expressed in the form of hundreds of thousands or even millions of dollars. If we take into account that such work of aviation has been going on for several years, the general order of numbers becomes clear.
However, the USA can afford such expenses. FY2020 Military Budget reached $ 738 billion, and a substantial share of this money will be spent on the purchase of equipment and weapons for military aviation. Thus, $ 3,7 billion was allocated for new products for army aviation, a little less than $ 20 billion for the air force, and 18,5 billion will be spent on naval aviation. These plans include the purchase of not only ASP, but also other products. The allocated amounts will allow you to purchase all the necessary products in the right quantities. Consequently, combat aircraft will be able to continue to conduct combat work and spend aviation weapons at the same pace.