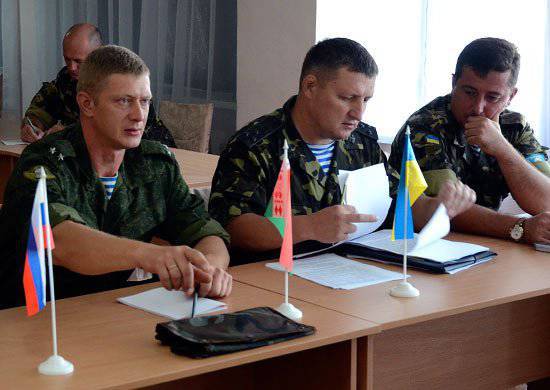 On the site Wide Lan in the area of ​​the settlement Ulyanovka (Nikolaev region, Ukraine) the opening ceremony of the joint exercise of the Russian, Ukrainian and Byelorussian paratroopers "Slavic Commonwealth-2012" took place.
It is attended by airborne units of the armed forces of Ukraine, Russia and Belarus. From each country involved up to 100 military personnel.
The main task of the exercise will be the training of actions as part of a joint battalion to perform peacekeeping tasks.
Russian landing was deployed with its full-time equipment and weapons on a large landing ship of the Black Sea
fleet
from the port of Novorossiysk to the Ukrainian port of Yuzhny (Odessa region), from where the "blue berets" made a march on special Tiger vehicles to the neighboring Nikolaev region, to the place of the exercise (general military training ground Shyroky lan, district of Ulyanovka,).
The combined battalion will work out practical issues of isolating and blocking the area where illegal armed groups are located, organizing the service at checkpoints, operating at roadblocks, escorting convoys with humanitarian supplies, and ensuring mine safety in the emergency zone.
During the exercise, it is planned to conduct the landing of the personnel of the joint unit from a military transport aircraft
aviation
"IL-76.
The exercise will end on July 27.