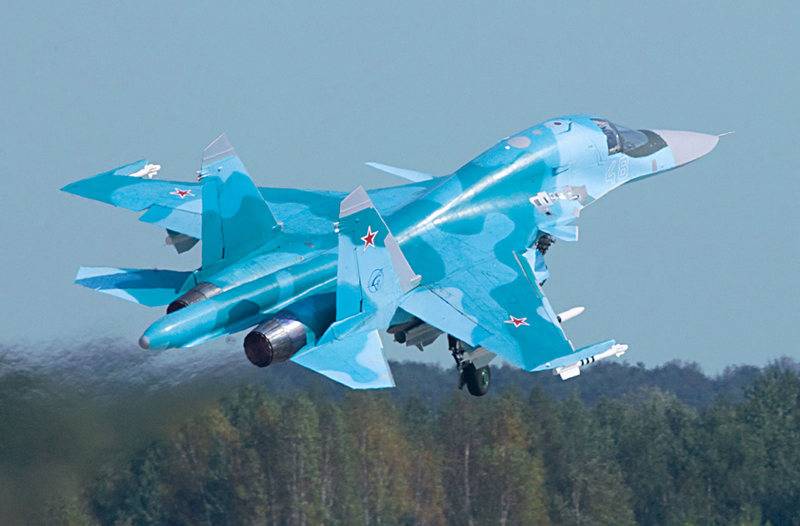 A new contract for the supply of the Russian Air Force for the Su-34 front-line bombers will be signed this summer. The Ministry of Defense plans to purchase several dozen modernized aircraft, TASS reports citing a source in the military-industrial complex.
According to the statement of the news agency source, it is planned to conclude a contract for the supply of the Su-34 batch of the Russian Aerospace Forces, which have undergone modernization as part of the Sych development work.
The military department plans to conclude a contract this summer with Sukhoi Company PJSC for the supply of several dozen Su-34s with advanced combat capabilities to the troops. The aircraft will integrate the latest radio-electronic equipment created as part of the Sych development work
- leads TASS source words.
As the interlocutor of the agency explained, the Sych ROC was completed in 2019. As part of this modernization, it is planned to install suspended reconnaissance containers on the Su-34, and also significantly expand the range
aviation
means of destruction. As part of this ROC, it is planned to upgrade the entire fleet of the Su-34 in service in the future.
Su-34 is a Russian multifunctional fighter-bomber, designed to attack aircraft by means of destruction at ground targets of the enemy in operational and tactical depth under conditions of strong opposition. It refers to the generation of 4 ++ and allows you to perform basic combat missions without escorting fighter jets. It uses long-range air-to-air and long-range air-to-air weapons with multi-channel applications. Equipped with a highly intelligent radar counter and defense system. Flight range - up to 4 000 km, maximum speed - up to 1 900 km / h, combat load - up to eight tons.