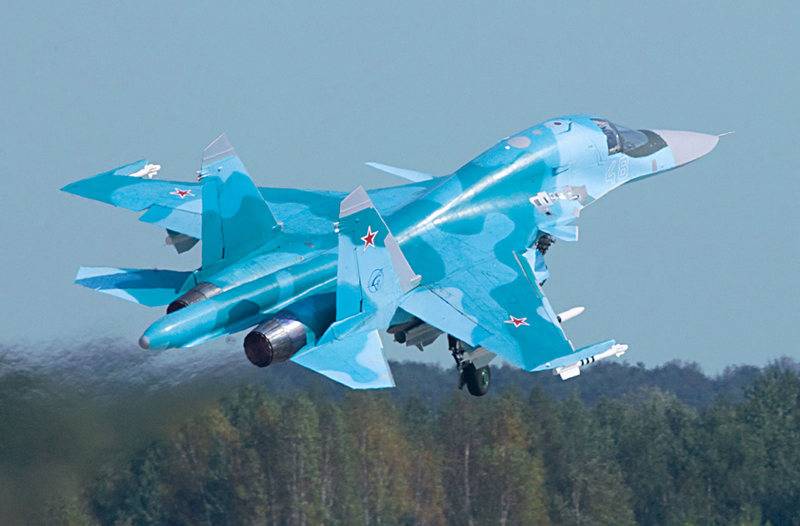 A new contract for the supply of the Russian Air Force for the Su-34 front-line bombers will be signed this summer. The Ministry of Defense plans to purchase several dozen modernized aircraft, TASS reports citing a source in the military-industrial complex.
According to the statement of the news agency source, it is planned to conclude a contract for the supply of the Su-34 batch of the Russian Aerospace Forces, which have undergone modernization as part of the Sych development work.
The military department plans to conclude a contract this summer with Sukhoi Company PJSC for the supply of several dozen Su-34s with advanced combat capabilities to the troops. The aircraft will integrate the latest radio-electronic equipment created as part of the Sych development work
- leads TASS source words.
As the agency's interlocutor explained, the R&D Sych was completed in 2019. As part of this modernization, it is planned to install suspended reconnaissance containers on the Su-34, as well as significantly expand the range of aviation weapons. Within the framework of this development work, it is planned to modernize the entire fleet of the Su-34s in service.
Su-34 - Russian multifunctional fighter-bomber designed for striking
aviation
weapons of destruction on ground targets of the enemy in operational and tactical depth in the face of strong opposition. It belongs to the 4 ++ generation and allows for the implementation of basic combat missions without escort by fighter cover. Uses long-range guided weapons of the air-to-surface and air-to-air class with multichannel application. Equipped with a highly intelligent radar counteraction and defense system. Flight range - up to 4 km, top speed - up to 000 km / h, combat load - up to eight tons.