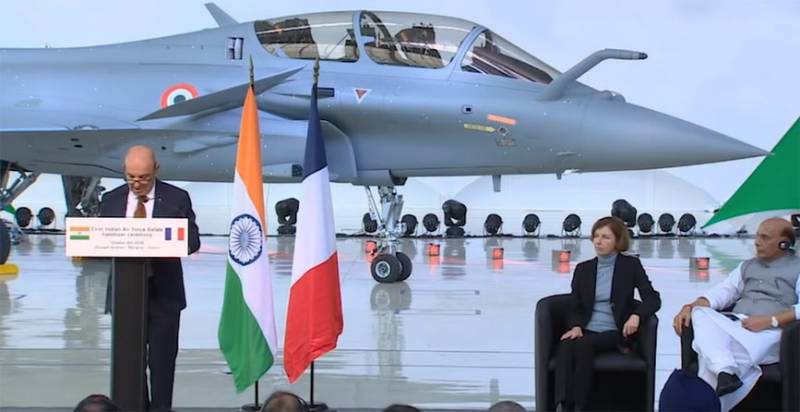 India, having made the purchase of more than three dozen Rafale fighters from France (until the party has been delivered to the customer), made it clear that if it buys a new large batch of these aircraft, then the French must make certain concessions. What specific concessions are we talking about?
Thus, the Indian press reports that the Indian state-owned company Hindustan Aeronautics Limited (HAL) has entered into negotiations with the French company Dassault. The goal for HAL is to be able to launch the production of Rafale in India. The company explains this with the Make in India program in force in the country.
It should be noted that the issue of localizing the production of French fighters in India has been raised since 2012, but then the French side rejected the proposal of India.
According to the Indian general Bipin Ravat, within 4 years, India could order another 36 Rafal fighters if the French go to establish the Indian branch of the enterprise.
Bipin Ravat makes it clear that the Indian authorities want to get the Rafal production line on its territory:
It would be possible to localize the production of fighters or some important components for them in our territory.
Along with this, Indian journalists managed to find out some features of the already concluded contract. It turned out that the contract for the purchase of 36 Rafales cost the Indian treasury as much as 7,8 billion euros.
It turns out that the cost of one "Raphael" under this contract is astronomical: almost 217 million euros. But New Delhi said that 50 percent of the contract value, the French "will send to the defense industry in India with a partial transfer of technology." In other words, the price of one "Raphael" (at a rough estimate) for India is about 108-109 million dollars. However, this price looks very high for 4th generation fighters.
Opposition forces in India, guided by this information, accuse the authorities of implementing corruption schemes.