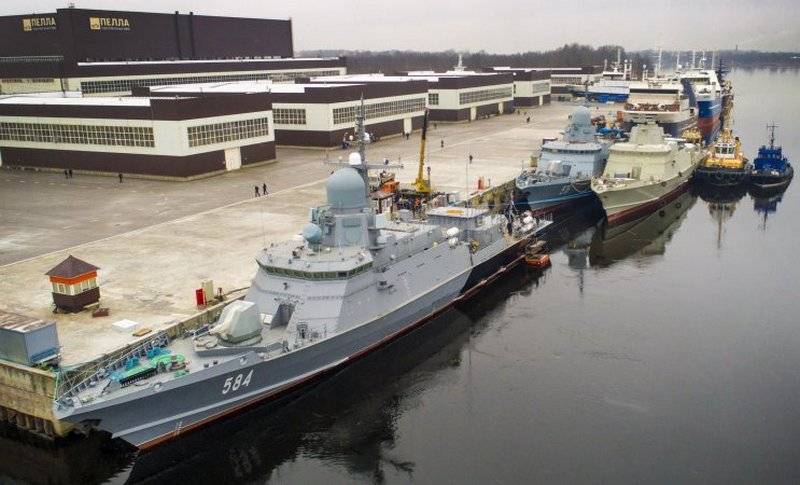 RTO "Odintsovo" of the 22800 project at the berth of the shipyard "Pella"
The second serial small missile ship (RTO) of project 22800 (code "Karakurt") "Odintsovo", which was completed at the end of November last year, began mooring trials. This was reported by the press service of the Ministry of Defense.
As previously reported, the ship was docked at the Kanonersky Shipyard (there is no dry dock at Pella), after which it returned to Pella, where mooring trials began on Monday. The company's specialists will check the operation of life support systems, radio navigation systems, the main power plant. After the end of the mooring, the ship will proceed to pass the factory sea trials, the beginning of which is scheduled for April this year.
The transfer of the ship of the Russian Navy is planned before the end of 2020, the ship will become part of the Baltic
fleet
.
As explained in the press service of the enterprise, the Odintsovo missile launcher is the first serial ship of this project to be armed with the marine version of the Pantsir-M air defense missile system, the lead ship of the series and the first serial missile launcher received the 30-mm AK-630 artillery mounts.
RTO Odintsovo (formerly Shkval) is the third ship in the series laid down at Pella and the second serial after the lead Mytishchi and the first serial Sovetsk, already included in the Baltic Fleet. Laid / launched on 29 on July 2016 / 5 May 2018 year.
RTOs of this project have a length of 67 meters, a width of 11 meters and a draft of 4 meters. Displacement - about 800 tons, cruising range - up to 2500 miles, autonomy - 15 days. Power plant - three M-507D-1 diesel engines and three DGAS-315 diesel generators.
The main armament is one UKSK PU (universal ship complex) 3С14 RK on the 8 KR Caliber, one 76-mm gun mount AK-176MA, ZRAK "Armor-M", two 14.5-mm or 12,7-mm machine-gun mounts MTTPU.