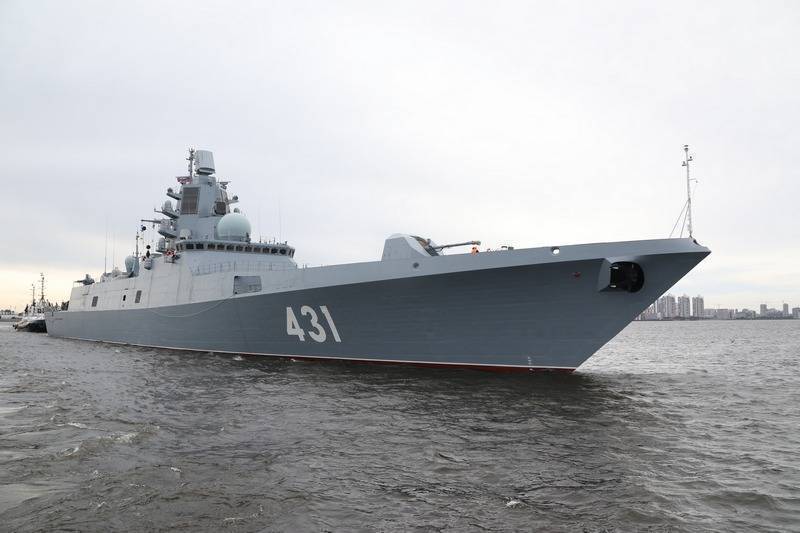 The first serial frigate of project 22350 Admiral
fleet
Kasatonov "will be transferred to the Russian Navy until the end of the first quarter. This was stated by the head of the United Shipbuilding Corporation Alexei Rakhmanov.
Answering journalists' question about the timing of the frigate's transfer to the customer, the head of the USC said that the state's tests of the ship were ending, after which preparations for transferring the Admiral Kasatonov to the fleet would begin.
The next test phase will last about another week, after which the ship will prepare for transfer to the fleet. This is the first quarter
- he said.
Currently, the ship is in Severomorsk, where it is preparing for the next stage of testing. According to the data provided by the Ministry of Defense, the ship's crew will have to test on-board air defense systems, all other tests have already been successfully completed.
Recall that the state tests of the ship began in November last year. They take place at the marine ranges of the Server Fleet in the Barents and White Seas.
The frigate Admiral Kasatonov is the second ship of the 22350 project and the first serial after the lead frigate Admiral Gorshkov. Displacement of 5 thousand tons with a length of 135 m and a width of 16 m. The frigate is able to travel 4500 miles, while developing a speed of up to 29 knots. Autonomy of navigation is 30 days. The crew is from 170 people.
Main power plant: gas turbine engine with a total capacity of 65 thousand liters. pp., diesel generators with a total capacity of 4 thousand kW.
The frigate is armed with: 130-mm A-192 artillery mount, Poliment-Redoubt anti-aircraft missile system, launchers for 16 anti-ship missiles Onyx or Caliber, anti-submarine complex Package, anti-submarine helicopter Ka-27.