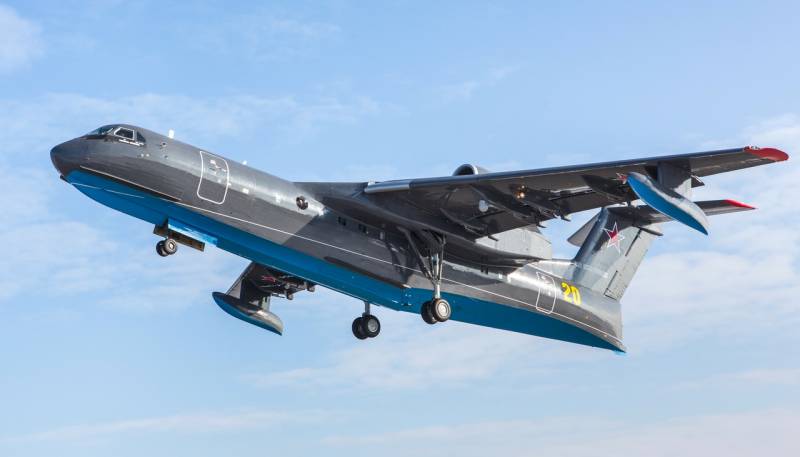 Another scandalous trial is planned in Kiev on the topic of cooperation between the non-downstream enterprises and our country in the military-technical field. While official representatives of companies that local "patriots" are trying to convict of "harassment" reject even the very thought of something like this, Ukrainian specialized Internet resources publish concrete evidence of the opposite and detailed lists of products, including dual-use , which literally was recently delivered from Ukraine to Russia.
The scandal erupted after a message was published on February 16 at the Ukrainian Industrial Portal stating that the search and rescue Be-200ES amphibious aircraft built from the Taganrog ANTK aerodrome took to the air.
aviation
Russian Navy. What does Ukraine have to do with this? The most immediate: after all, each such aircraft is equipped with two Ukrainian-made D-436TP engines. And just the delivery of two such turbojet engines to TANTK them. Berieva was recorded in February this month.
According to the portal, Motor Sich's cooperation with Russia is far from limited to this supply. They claim that, in addition to engines for the Be-200ES, in 2019, the company delivered to Russia other units in demand: two aircraft turboprop engines D-136 ser. 1 with a capacity of 8383 kW, intended for installation on civilian Mi-26T helicopters; two aviation turbofan engines for passenger An-148 aircraft. In January and February of this year, two D-18T turbojet engines for the An-124-100 were delivered twice.
This publication caused a stir in Kiev. The press service of Ukroboronprom Concern was not slow in issuing an official statement stating that in strict accordance with the Cabinet's resolution of 2014 "there is no trade with the aggressor country." Moreover, the company vigilantly monitors, "so that not a single nut hits the enemy"!
Representatives of Motor Sich OJSC also swore with the most honest air that they had not concluded any deals with Russia since at least June 2014. However, at the same time, for some reason, they all the time "turned off" on the topic of deliveries to our country of AI-222 engines for Yak-130 UBS, which, since 2015, have been sent exclusively to China. Concerning the products mentioned in the list of the Industrial Portal, the company preferred to prudently keep silent.
At present, at the stage of discussion and conclusion are supplies of Ukrainian aircraft engines to Russia in the amount of at least two billion rubles. It is a possible option. By the Be-200ES alone, up to 2027 units can be built up to 16 - to be deployed on all navies. We multiply by two engines, each of which costs about 2,5 million dollars ... A good amount!
Incidentally, during the creation of this aircraft there was an idea to abandon the engines from the "non-down" in favor of the SaM146 power plant of French-Russian production. However, they decided not to do this: all the same, a complete import substitution in this case does not work.