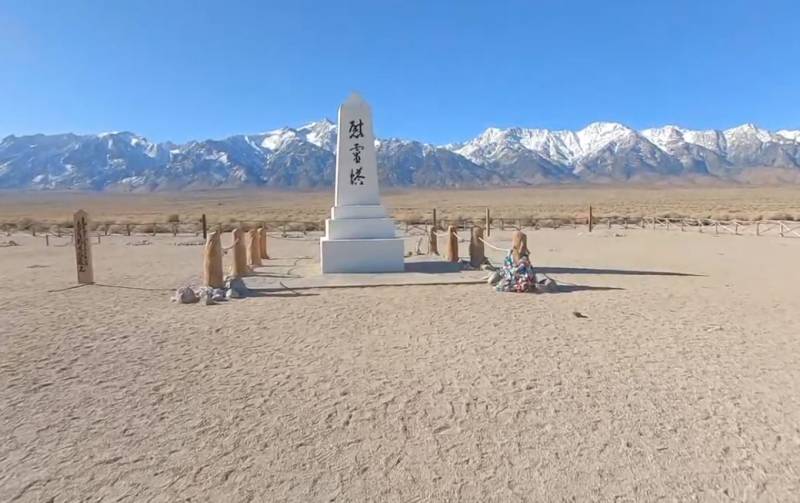 Former Manzanar Mountain Camp Memorial California
The California legislature (USA) plans to publish an official apology for keeping Japanese Americans in special camps during World War II.
According to the most conservative estimates, in 1942 about 120 thousand US citizens with Japanese roots got into the camps created on the territory of the USA (they are called the "Roosevelt Gulag").
Then this was done on the basis of the order of the President of the United States due to the fact that almost every ethnic Japanese after the well-known events in Pearl Harbor was perceived as a potential spy or agent of Japanese intelligence. Japanese prisoners of war went there.
To support the Japanese, including children and the elderly, 10 camps were created, some of which were in California.
From the materials of the California press:
California authorities apologize for racist stain left in
stories
state and all USA. The California Assembly remembers how Japanese-Americans were sent to camps in the 1940s. Formal apologies will be made with the approval of State Governor Gavin Newsom. We want such persecution of freedom never to be repeated in our country.
The text, prepared by the California Assembly, criticizes the initiative of the US authorities in 1943, when the Americans of Japanese descent could revoke US citizenship.
One of the largest Japanese camps in the United States is Manzanar, which was located in California.
The United States itself called this initiative "Gavin Newsom political action", which is directed against Donald Trump. Newsom - representative of the Democratic Party. He has repeatedly spoken out against Trump's policy of tightening migration laws.