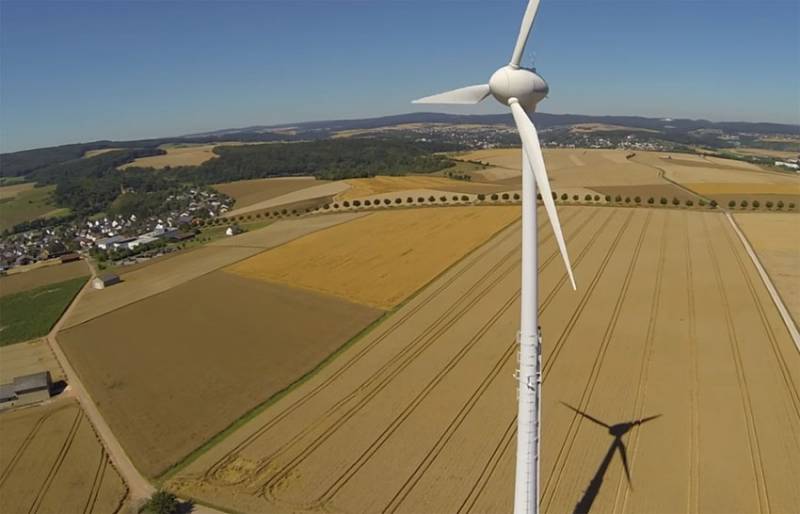 In Germany, a contradictory tendency and a clear problem have emerged: the number of people who want to see the country's economy switched to "green rails" is increasing and already exceeds 80 percent, while the number of those who are not openly ready to become a peculiar part of this process is growing.
The German press publishes the material "We do not want a windmill at our door" by columnist Hannah Knuth, which describes an interesting situation in one of the villages of the federal state of Baden-Württemberg. The journalist says that at one time 49 percent of local residents voted for the Greens, a political force that advocates the protection of nature, environmentally friendly economic activities, etc. After some time, the Greens said they were going to implement a program to increase the share of electricity generated from wind power plants. The program consists in installing nine wind turbines-electric generators in a village with a population of only 96 people.
However, the Greens noted an unexpected problem. Local residents, who were so active in advocating environmental friendliness, suddenly stood up against the mountain so that the mentioned windmills appeared near their houses. The motivation of the residents of the village of Bellen in Baden-Württemberg is that wind generators of electricity create frequencies that adversely affect the hearing and the human psyche.
From material in a major German edition of Die Zeit:
This was also the reason why the expansion of wind energy over the past two years has so sharply declined: if in 2017 about 1800 new wind turbines were installed on land (in addition to the sea) in Germany, in 2018 this figure was already 743. And in 2019, it fell to 325. This is the lowest since 2000, when the Renewable Energy Act was passed.
From 2017 to 2019, the growth rate of the introduction of wind power plants fell by more than 5 times.
Recall that Germany refuses to use coal and nuclear power plants, saying that it will replace them with "green" energy sources. Specialists call it utopia.
Moreover, the material of Hannah Knut makes it clear that many Germans, speaking for "green" energy, do not really realize what this transition is expressed in. When it comes to generating power in the immediate vicinity of their homes to reduce the cost of transporting electricity, many are opposed. To date, two petitions have already been submitted from Bellen village against wind turbines-electric generators.