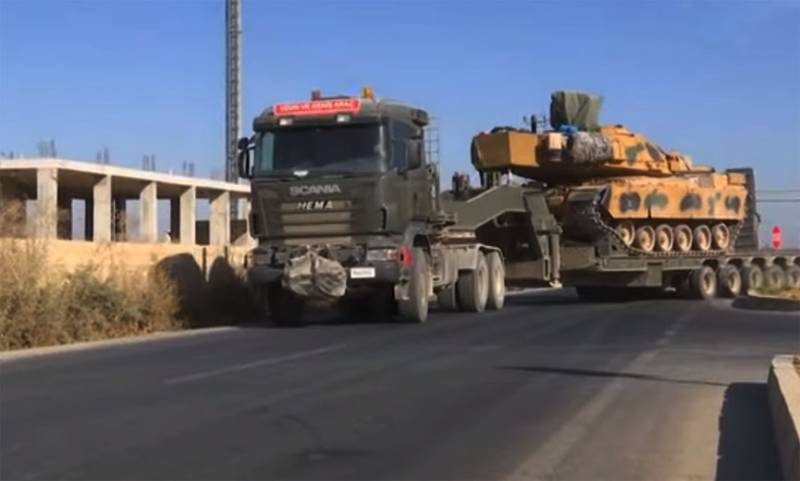 Noteworthy is how foreign and experts and ordinary users of the network react to the Syrian armed conflict. In this short news story, we will discuss the reaction to the increase in the Turkish military contingent in Syria by Chinese users and Chinese media.
TV China reports that over the past few weeks Turks have transferred more than fifty to Syria
tanks
and over a hundred other pieces of equipment, including an electronic warfare system ("VO" told its readers about the transfer of this system "). It is noted that as a result of Turkish attacks on the positions of the SAA in the past few days, at least 230 Syrian soldiers and officers have died.
From a China TV post:
But the Syrian army continues to advance north and west of the province of Idlib. And it suffers losses not only in battles with local forces opposing the official authorities, but also with those who support them from abroad. The greatest losses in this case are from Turkish troops.
The material notes that the Turkish army is one of the largest and most equipped in NATO, and therefore, "Assad's forces will not be easy if Ankara takes advantage of all available opportunities."
About the reaction of Chinese users to the Turkish invasion of the Syrian Arab Republic.
Turkey, what do you want from Syria?

Syria has no choice but to unite forces and means to confront the invaders and send them home.
Will someone tell me what the United Nations (UN) is doing at this moment?
Interesting events are developing: Turkey invaded Syria, and now claims to be forced to fire at Syrian soldiers, as they opened fire. But the Syrian fighters act according to the charter and the oath, protecting their country.
Turkey in Syria has its own trained dogs ...