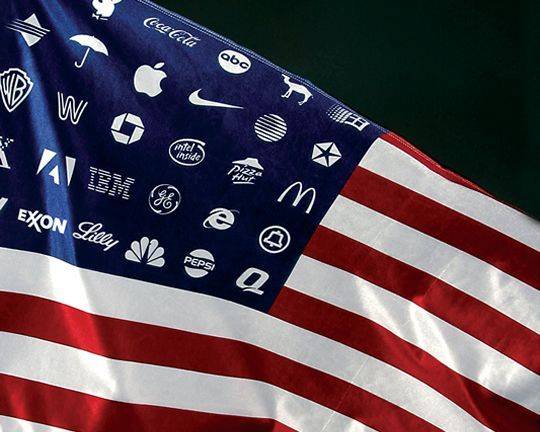 How's Iowa?
Russian-speaking wits immediately found a rhyme to our title. This rhyme also applies to the state of the entire free-market economy, built on shadow financial fraud, accounting manipulations, speculative statistics and advertising propaganda. All this is called by the Russian people bullshit.
The failure of the Democratic Party's primaries in Iowa quickly leaves the headlines, but has managed to spotlight the entire bullshit economy — the bullshit that immerses free-market America.
The Caucus party meeting system has long been out of date. The American constitutional republic itself is chronically outdated - the advanced political technology of the 1700s, and there are many problems there. The most acute of them is that the result is not determined by a majority of votes, but by delegates selected somewhere in closed party offices according to complex formulas.
The confusion in Iowa highlighted a much more serious American problem. In an article by David Dyen, editor of the prestigious Prospect Magazine, Bullshit economy, the mechanism of what cannot be translated other than bullshit is well illustrated.
"We've seen its elements everywhere," writes Dien. - When MoviePass offers an unlimited number of hits for ten bucks a month; when the WeWork realtors, bloated by the exchange, supposedly providing a place for startups to work together, are covered after the simplest verification of their data, this is bullshit. First the farce of Juicero. Then the bullshit from Theranos. "
Prior to falling apart, Juicero entrepreneurs sawed off a $ 120 million investment in selling wi-fi juicers and fruit subscription for them, although squeezing juice by hand is much more convenient. Theranos has been able to raise $ 700 million in investment. Its market value was valued at $ 10 billion for promises of a blood test technology that almost took no blood.
All this -
stories
obvious failures. There is much more bullshit in the success stories. Uber is valued at $ 82 billion from a low-income taxi business, on which they never earned a dime. Apple does not pay taxes by manipulating tax codes of different countries; with the money spent on taxes, they buy their shares in order to inflate the income in the annual report; over the past 8 years, they have not released a single worthy product (although each new iPhone model is presented as a technological revolution); and nevertheless on the exchange they are valued at $ 319 billion, more recently - the most expensive corporation in the world. But how is it in Iowa?
Cut the dough democratically
The story of Shadow Corporation, which created an application that didn't work in Iowa, is a great example of bullshit. As usual, they undertook to sell technical solutions for a non-existent problem. The state of Iowa is small, the constituencies there are tiny in American terms. Even in Iowa's largest county, all settlements are located no more than 30 minutes from the county center, Algona. In a couple of hours, all the voting results of party meetings of 99 districts can be brought to the center by car.
However, there it was. The leadership of the Democratic Party in Iowa convinced "who needs it" that they need to "improve performance" and "computerize reporting." For some reason, the party decided that it should track and tabulate the results after calculating 15% of the votes and in real time not report the results, but the number of delegates obtained by complex calculations at the party's congress. It is not clear why it was necessary to add another level of complexity using a computer application, when for a hundred years everything worked. But someone in the shadow company Shadow ("Shadow") had to get $ 60 to develop an application that sends the results to the central headquarters.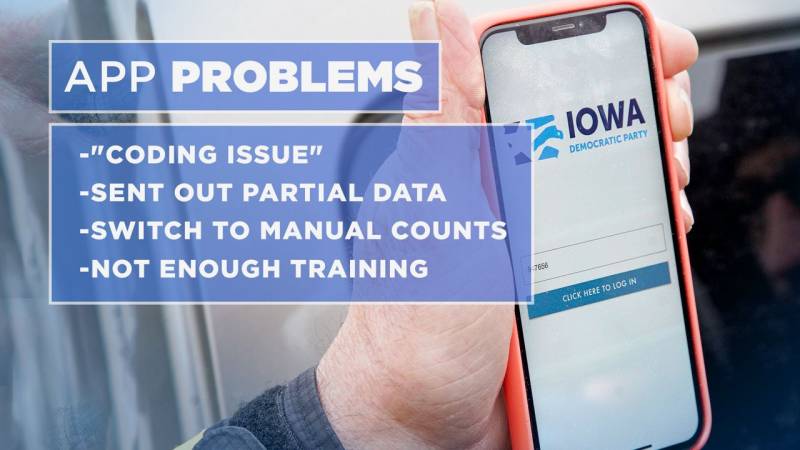 Application problems: code errors, sends partial data, switches to manual calculation, not enough training. Photo Spectrum News
This is not to say that in America there are no high-quality political computer applications. The Koch Brothers Conservative Fund, which has been operating in the field for more than a quarter of a century, has created effective applications like BuyCott, which allow to determine the positions of candidates on issues of abortion, control over
weapons
gay marriage and other issues important to conservative identity policies. But in the Democratic Party there is still a "cut of the dough."
It is known that no testing of the application has been conducted. There was no training. Many administrators began to transmit the results at the same time, and this overloaded the application, since all 1600 participants in the party meetings tried to immediately report. There were many other bugs.
It all started with the fact that a group of staff at Hillary Clinton's headquarters acquired the necessary "blat" in the Democratic Party in 2016. They created the "nonprofit structure" ACRONYM, designed to end the dominance of Trump supporters and Russian hackers on the Internet. David Plaffe, who heads Obama's headquarters, joined the board. He brought his boys and girls to start-ups, including Shadow. The ties he had gained during the election campaign opened the door for Trump's worried liberal donors from Hollywood and Wall Street.
The Democratic Party, which claims to be representative of "ordinary people," is actually a party of Wall Street and the Big Technological Business.
Frightened donors were told stories about the need to defeat Trump's computer superiority. In preparing the article, I asked a common acquaintance to ask the main Internet guru, Trump Brad Parskale, what applications are used at their headquarters. In response, a short message came that they simply spend a lot of money on advertising on Facebook and other social networks. Investors and donors scared Russian hackers. The panic is so great that, as Li Fang from Intersept and Matt Tybby from Rolling Stone report, out of fear of Russian hackers, the application was not allowed to be included until the election itself.
As usual, the hand washes his hand. American-style believers in the ability of technology to solve any problems, and investors afraid of their own people gave money to "faithful people" for "technological solutions". ACRONYM is engaged in "sawing" their money. Now ACRONYM claims to be just an investor in Shadow, without knowledge of their internal work. But last year, ACRONYM announced that it was "launching" Shadow to help Democrats "win" the Internet and "improve" the election campaign. ACRONYM CEO Tara McGowan is married to political strategist Pete Buttigic, who was awarded most of the delegates in Iowa.
It makes no sense to indulge in conspiracy theories when everything is in sight. This is the result of all-round doom, corruption, incompetence covered by self-confident statements, especially when labor-saving technological utopias are promised.
Bloomberg is a virus
Bullshit overwhelms the highest level of our economy. With the help of fraudulent advertising indicators and false sales figures, cash is pumped out through the dominant platforms of Facebook and Google. So many counterfeit products pass through Amazon that the US administration threatens to include the corporation in the list of "notorious markets" where they sell counterfeit brands. And this is the largest retail corporation today, which not only dominates the market, but for the first time in the history of capitalism itself strives to become a market.
America has not recovered from the 2008 financial meltdown, based on delusional claims that housing prices could rise indefinitely. The financial sector brings in half the corporate income in bullshit. Corporate success there is determined not by productive achievements for society, but by manipulating stock prices and air prices. Air trading is not mentioned here for the sake of words. Climate change is our reality. However, corporate managers and their lobbyists and politicians are pushing free-market recipes for carbon trading, which, in essence, are mercantilizing air, turning it into a product to make everyone pay them for what we breathe.
Bullshit is controlled by shareholders who are least interested in the existence of a business. Unlike workers, suppliers, consumers and local residents, investors are able to quickly sell their shares and go somewhere further, leaving all other interested parties at a loss. On the other hand, private equity funds are thriving, benefiting companies by skillfully using debt obligations and other methods of financial engineering, destroying companies they have not created along the way, destroying entire communities and cities dependent on these companies. The manager of such a company, Mitt Romney, visited us even as a presidential candidate, whose business the Republican Party comrades did not hesitate to call a vulture.
The free-market fundamentalism reigning in ideology calls for severe economy, cuts in social programs, pensions, holidays, kindergartens, schools, and workers' rights. The average man is scared that the state will print too much money that does not have collateral. A sovereign state is not a household; it has a treasury that can cover its expenses.
However, trillions of dollars in the form of computer bits are printed on the exchange. Money is made there from money without creating any additional value. And this empty money then penetrates the real economy, destroys it, raises the cost of living, creates a huge economic chasm, fraught with serious public disasters.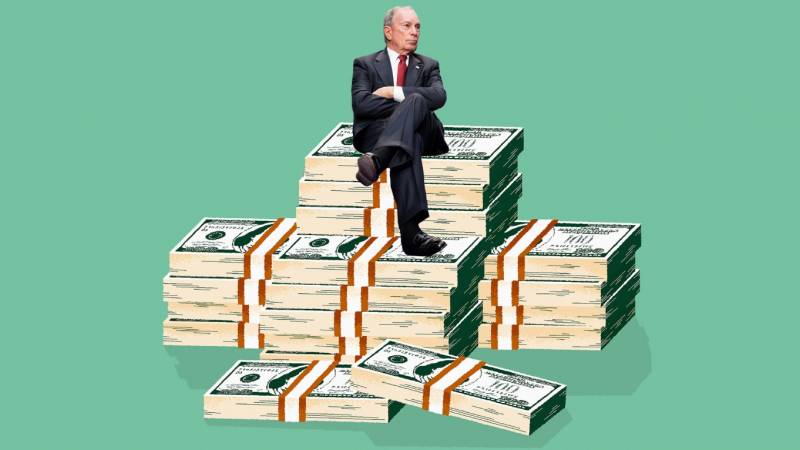 Photo by Kristen Hazzard / The Daily Beast / Getty
In recent decades, unprecedented money has come into American politics. In 2012, Obama and Romney raised one and a half billion dollars. In 2016, Hillary Clinton alone had one and a half billion in her arsenal. In 2020, Mike Bloomberg, who made $ 60 billion in bullshit, came into politics. After spending three terms with the mayor of New York, he turned the City of the Big Apple into a piggy bank of the world's kleptocracy. From all over the world, billions stolen and hidden from taxes flocked to real estate. Now, tens of thousands of housing units in New York, as in other metropolises, are empty, waiting for the next financial crisis, when everything will collapse and money will have nowhere to run but real estate.
Real estate has become the American last frontier. City dwellers, like once the Indians, are driven out of their quarters by gentrification, which is more like colonization. Wealthy people are driven out to middle-class areas. They drive out the middle class to the poor, while the poor are driven out into the streets. There are over 70 thousand homeless people in New York, of which 25 thousand are children.
Bloomberg gives out one billion a year to "charity," buying politicians, union bosses, sheriffs, city mayors, members of Congress and local legislative assemblies. He has invested billions in politics on projects to limit smoking, the sale of weapons, carbonated drinks, and a host of others.
Bullshit conquers evil. Bloomberg takes over the political and media space like a virus.
The year before last, I bought Timberland boots at a sports store. They stood in the closet for about a year and a half, before the other day I was going to put them on. After an hour and a half walk in the park, their soles fell apart. Friends urged me to go to the store, write to the company, but I waved my hand at the money thrown away. I don't believe them anymore.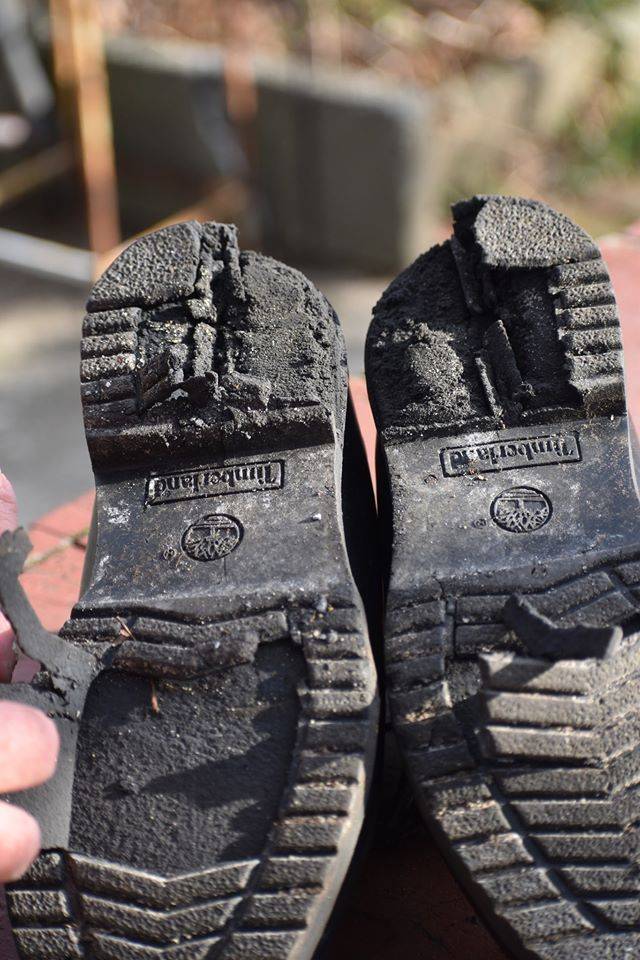 My friend from St. Petersburg writes: "I showed a photo to a peasant from work, who levy about it on Nevsky back in the 80s. He could not pick up the jaw from the floor. Says I killed his America ... "Photo by author
When bullshit is another failure, it deprives people of faith in the basics of commerce, in what we get for what we pay for, in the fact that businesses work with honest intentions to provide quality service. Bullshit in politics destroys people's faith in the system, and without the trust of people, states collapse, despite all their military and police power.
New York, February 2020