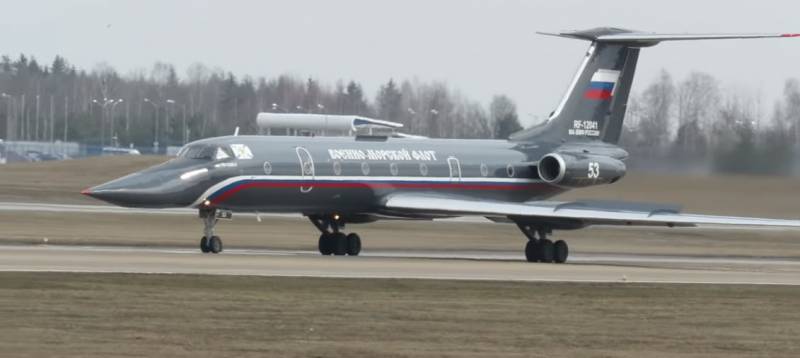 Information sources subordinate to NATO report that the Belgian Air Force F-16AM aircraft "intercepted a rare aircraft over the Baltic Sea". It is reported that to intercept the Belgian Royal Air Force fighters rose from the airfield in Lithuanian Siauliai. At present, there are four Belgian aircraft in this Baltic city - within the framework of the NATO program "to protect the airspace of the Baltic countries".
So what kind of airs did the Belgians intercept?
The reports say that we are talking about the Russian aircraft Tu-134UBL "Black Pearl".
From a post on Twitter for the Belgian Air Force:
The Belgian Air Force fighters intercepted a unique board in the airspace over the Baltic Sea - the Russian Tu-134UBL "Crusty-B", which is often called the "Black Pearl" because of its color. He is often used in the Russian Aerospace Forces to train pilots and navigators of the Tu-160 and Tu-22M3 strategic bombers.
In the comments to the publication, one of the users noted that the Belgian pilots acted as spotters of the Russian military
aviation
. Recall that spotters are called photographers of various types of aircraft in the sky and at airfields.
Initially, the Belgian Air Force stated that the aircraft "noticed":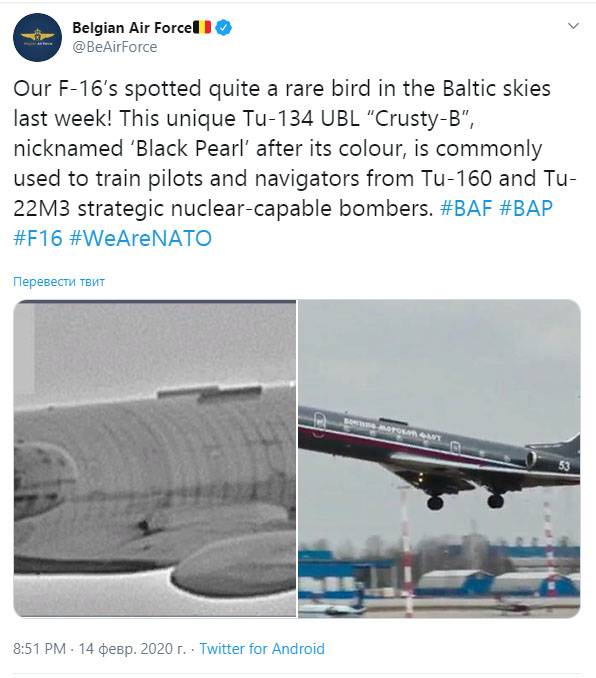 Then, instead of being "noticed" on the resources of Belgium, NATO began to use the term "intercepted."
The materials say that the Russian Tu-134UBL was photographed in the infrared range by the Belgian F-16AM pilots.
The Russian defense department hasn't commented on the NATO information resources at the moment.