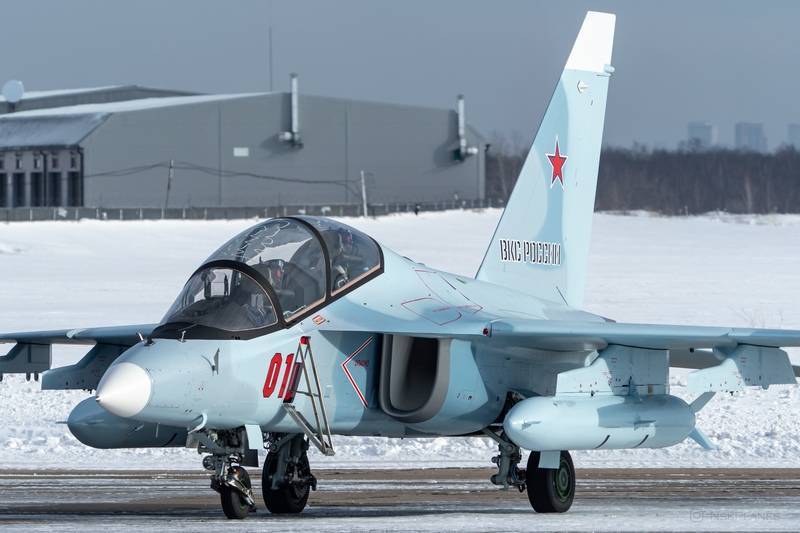 For the first time since October 2018, the Russian Aerospace Forces received two new Yak-130 combat training aircraft. The aircraft will go to the Krasnodar Higher Military Aviation School for Pilots (KVVAUL) named after A.K. Serov.
A pair of new Yak-130 with tail numbers "01" and "02" "red" was captured during an intermediate landing at the Novosibirsk Tolmachevo airport during a flight from the Irkutsk Aviation Plant (IAZ) of PJSC Irkut Corporation to the Volgograd Region. airplanes must enter the training
aviation
KVVAUL base in Kotelnikovo (Volgograd region), and will be the first Yak-130 as part of this air base. The military department reminded that earlier the Yak-130 entered service with the Kushchevskaya, Borisoglebsk and Armavir training bases.
The arrival of the school's technical services specialists at the Irkutsk Aviation Plant for acceptance of the Yak-130 was reported at the end of January this year.
According to the bmpd blog, these two Yak-130s are the first aircraft of this type built under an additional contract for the supply of several Yak-130 units concluded by the Russian Ministry of Defense with Irkut Corporation in 2019. Both aircraft were actually built on IAZ in 2019 and circled in November, but transferred to the KVVAUL only now.
Earlier, from 2009 to 2018, the Russian Ministry of Defense received 109 Yak-130 aircraft under various contracts - of which 12 of the first two series were built at Sokol Nizhny Novgorod Aviation Plant, and 97 more at the Irkutsk Aviation Plant.
Yak-130 (according to NATO codification: Mitten - "Mitten") is a Russian combat training aircraft developed by the Yakovlev Design Bureau to replace the L-39 training aircraft in the Russian Air Force. In the case of combat operations, the aircraft is able to perform the tasks of a light attack aircraft.