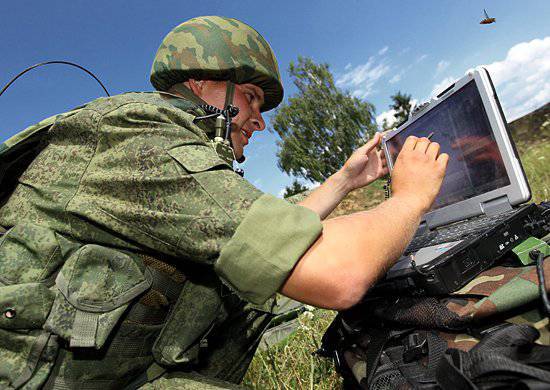 On the testing grounds of the Southern Military District (SKR), a special tactical exercise began with military units and intelligence units that began to work out the practical tasks of combat training in the field. More than 500 soldiers, sergeants and officers are preparing to act in isolation from the main forces, relying only on their own forces.
Special attention is paid to the issues of individual training of intelligence officers, their ability to use the latest technical means for obtaining, processing and promptly transferring information about the enemy to the command in the context of dynamic combat operations of both offensive and defensive nature. One of such means is the portable Strelets communication complex, operating on the basis of the GLONASS system and allowing the intelligence officers to instantly transmit the coordinates of the identified targets to a distance of 3 thousand.
Ground and
aviation
during the exercise, electronic intelligence units will have to demonstrate skills in using modern radio-technical and electronic equipment in order to identify enemy armed forces and establish goals and the nature of their activities.
The reconnaissance units of combined-arms units will work out the organization of observation posts, reconnaissance ambushes, raids, reconnaissance patrols, masking techniques, silent reconnaissance movements on the ground and other special tasks. In this case, the basis of the actions of intelligence will be based on the experience of the use of intelligence units in local wars and armed conflicts of recent decades.
In order to increase the effectiveness of reconnaissance, a large-scale use of various modern optical and optoelectronic devices, including domestic and foreign unmanned aerial vehicles Grusha, Bird-Ay, and Surcher was planned by the military, during the exercise. In addition, the intelligence officers of the Southern Military District will have to master the newest means of automated data processing and transmission, which allow, in the shortest possible time, to transfer the acquired information to the higher command and at the same time issue precise target designations to the forces and means of fire destruction.
The duration of the school day will be 10 hours, half of the classes are planned to be spent at night and in difficult terrain. The skills acquired at the test sites will be demonstrated by the scouts during the large-scale exercise Kavkaz-2012 scheduled for September of this year, during which the intelligence obtained in various ways will become the basis for the use of high-precision
weapons
.