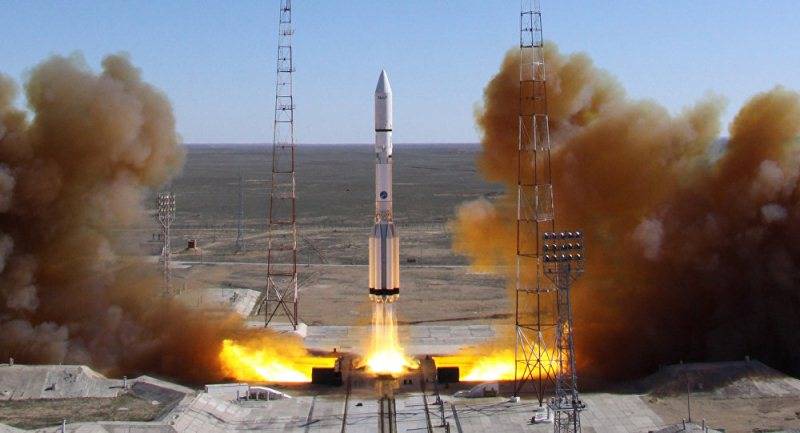 Just the other day, in a completely different article, I expressed the opinion that we have recently observed such a bad tendency: to tell tales to the people. That is, the state and near-state mass media joyfully and amicably begin to broadcast what will be accomplished, let's say, by the end of next year. Or 2023. Or 2025. Not so important.
The calculation here is simple: promise (or tell a lie) from three baskets, create the feeling that we're just going to get bogged down and drown in accomplishments, and push something of our own on this wave.
For example, voting on constitutional amendments.
And how not to vote? We are under the leadership of the party and its general ... Okay, just the United Russia party and the president, who has nothing to do with it, we are making so many historical breakthroughs that all normal citizens are simply obliged to understand this and make the right choice.
And as examples (namely, examples), I'll give a bacchanalia that began around spaceships.
In recent years, around the "Eagle" with the "Federation" heaped so much that it's just a wonder that you get so much arrogance from people with such free compositions. But the "Eagle" and "The Fed with the walkie-talkie" turned out to be small (yes, I am aware that this is the same thing, those who write fairy tales about it sometimes do not know), they also added a certain "Argo".
I'll start with him. According to the chronology.
The hysteria organized by the local Vesti in Voronezh with the easy presentation of a certain Tatyana Brostovskaya is admirable. There was not a single small-town media that did not respond to the topic raised by Tatyana.
Here is a link to the material:
"Details for the new Argo spacecraft will be made near Voronezh"
.
Interestingly, everything in the Vesti material is a lie and a fiction. From the first to the last letter, but I don't even want to talk about numbers.
"The new Argo cargo spacecraft will consist of 60% Voronezh parts. They will be manufactured by the Aerospace Composite Technologies enterprise, which is part of the Composite Cluster in the special economic zone Center in the Novousmansky District. "
Pretty, right? Buildings of factories are drawn, in which (according to Brostovskaya) this year they will begin to cast and stamp parts for this Argo. Already in 2020 !!! Beware, Musk, this is your answer!
Naturally, everyone who was not lazy (and not laziness was practically all) joyfully picked up all this, thoroughly discussing the prospect for the city and the region and so on.
What is noteworthy is that ALL that Brostovskaya dumped in her creation does not correspond to reality. To say the least.
And start in order.
No details will be produced for the ephemeral space response to Ilon Mask in the Voronezh region in 2020.
Here is a link to the website of the Department of Economic Development of the Voronezh Region. Everything related to the SEZ "Center":
SEZ "Center"
.
And here in this document it is clearly visible that only in 2019 the construction of this special economic zone was to begin. And here is the Residents section.
"Residents:
Currently, two companies are assigned the status of residents of the SEZ PPT Center:
- LLC "Bally", investment project "Construction of an enterprise for the production of children's gaming, sports and park equipment";
- IK Maslovsky LLC, investment project "Construction of a plant for the production of glass prepregs, foil dielectrics and technical laminates."
It remains only to decide which of the two existing participants in the SEZ will rivet the details for Argo: a manufacturer of sports equipment or technical laminates.
So, alas, there is no "composite cluster" in the SEZ. As, in fact, there is no SEZ "Center" itself.
I finish.
Here is last year's material of the same Vesti, but Moscow. About this "Argo".
Russian Argo: Roscosmos will build a new reusable space transport
.
Do not be lazy, go and read. Written by professionals not from the local media. That is why the article is replete with the words "maybe", "supposed", "most likely", "when framework agreements will be concluded" and so on.
And in the last paragraph even the date is named: 2024.
But nothing, judging by Brostovskaya, everything will start much earlier. In 2020. More precisely, nothing will ever begin, because there are no factories, no sites, nothing.
So, "Argo", if it does, then as always with us, 20 years later, after such a good cut. Well, as usual with us at Roskosmos.
Moving on.
"About Fedya with a walkie-talkie", which became "Eagle", we have already written more than once. "Eagle" did not begin to fly better, and last year it was actually buried due to the lack of a launch vehicle. On the ISS, taking what is expensive to the moon is not enough power.
And then - oh, a miracle! - "the flight dates of the Eagle are named! No, really, a miracle!
This time, we were pleased with Izvestia with reference to RIA
News
". Naturally, everyone picked up. As a result - again we sing songs to the frenzy of the brave, again we are ahead of the rest, maestro, cut the march!
"The date of the first flight of the Russian ship" Eagle "became known
.
"The first manned flight of the new Eagle spacecraft being developed in Russia to the International Space Station (ISS) is proposed to be carried out in September 2025. It is reported by RIA Novosti with reference to the materials of the spacecraft's developer - the Rocket and Space Corporation Energia.
Roscosmos did not comment on this information, sending it to the ship manufacturer. They didn't respond to a request from journalists. "
So, the cleaning lady from RK Energia reported ... However, most likely, there was not even a cleaning lady. I think that by 156% this is all fiction of another Brostian or someone else, because the material, unlike the Voronezh creation, is not even signed.
It is clear that at Roskosmos they sent to ... Energy, and there they didn't even respond to such nonsense.
Nevertheless, a joyful cry was spread out.
The question arises: why?
Why start rumors about what will happen in 3 (first flight), 4 (unmanned flight to the ISS) and 5 (manned flight) years, if all this is just speculation, fabrication, and so on?
Probably someone needs it.
Meanwhile, on January 28, 2020, from the speech of the first deputy head of Roskosmos, Yuri Urlichich, it became known that an unmanned aerial flight of the Moon by the Orel ship is planned for 2028, and a manned flight and the development of a manned docking of the spacecraft with the lunar take-off and landing complex in 2029.
Can you believe the plans voiced by Urlichich? I am sure that it is possible. Another question, who needs to voice all this unscientific fiction, to me personally is not entirely clear.
It is not clear why this stupid fuss is needed around an empty place. Well, we already know that sometimes it takes so much time from a plan to accomplishment ... You can survive until retirement.
Let's become very smart for a minute and ask one question: what will this "Eagle" put into orbit?
Ah, yes, in all places it is said about the Soyuz-5 rocket, aka the Irtysh.
I'm sorry, but this missile is simply not there. This is just a "promising development", nothing more. Not even that, moreover, according to Irtysh there is not even a conceptual design approved by Roskosmos yet.
If we discard all the verbal husks performed by Rogozin, then for the whole last year there was one significant event around Irtysh / Soyuz-5: on November 7, 2019, Roskosmos postponed the delivery of the Soyuz-5 outline project for a year - by 30 October 2020 The first launch from Baikonur is still planned for 2023.
I translate: only on October 30, 2020 can it be said whether there will be a rocket or not. If so, as with Angara-5, then, of course, nothing will happen. And there Kazakhstan must modernize Baikonur under the Irtysh ...
In general, everything is not as simple and clear as we would like.
But in general, the problems of Roskosmos in terms of the corporation's powerlessness to invent at least something worthwhile, apart from Rogozin's statements, have long been known to us.
Actually, the Irtysh is nothing other than the Zenith dispersed by steroids, the launch vehicle is excellent, reliable, but frankly old, and even with a bunch of Ukrainian developments. So there's nothing new either.
But the matter is not in claims to Roskosmos, no. This is due to the strange position of many Russian media outlets that openly circulate if not a deliberate lie, then unverified information. But, apparently, this is such a topic of the day. Lie today about what will happen in five years, and there, as the saying goes, either the donkey dies or the shah changes his mind.
Be careful, dear readers. And look around three times before shouting "Urya!"
Required postscript.
In December, we published good news that these same space composites would be poured near Voronezh. Here is the news that came from the "press service" of the Composite Cluster OSZ Center.
"A cluster for the production of composite materials will begin work near Voronezh"
.
Sharing more than cautious comments from our readers, we decided to find out what this cluster really is and how things are going there.
So the continuation (and there are indications that everything will be very fun) follows ...
And the second postscript.

First: in Vesti, the text of the note was changed, but the essence was that in 2020 only the construction of the plant would begin, and not the production of parts for Argo. Sometimes you need to work more carefully.
Second: we contacted the press service of the cluster, which will be built in the near future, and together with them we will keep everyone in the know about the events taking place in this direction.