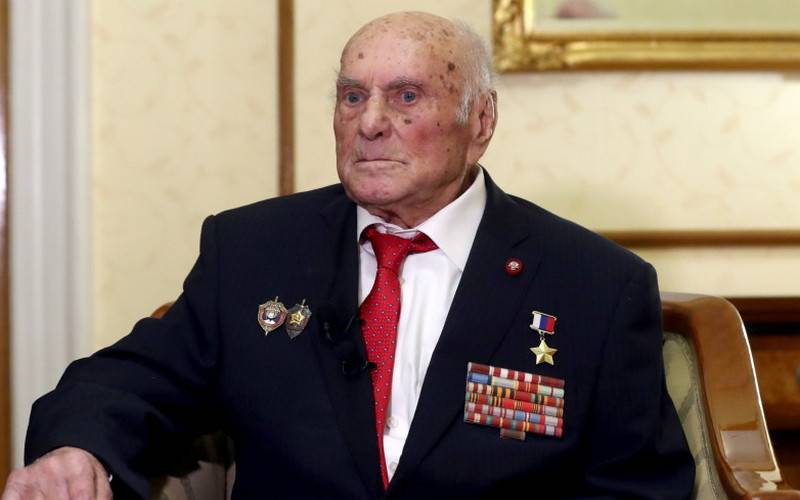 The oldest and legendary scout, Hero of Russia Alexei Botyan, who in 1945 led the operation to save from the destruction of the Polish city of Krakow, died in his 104th year of life. This was reported by the press bureau of the Foreign Intelligence Service of Russia.
Alexei Nikolaevich Botyan died
- said the head of the press bureau of the Foreign Intelligence Service of Russia Sergey Ivanov.
February 10 this year, Alexei Nikolayevich Botyan turned 103 years old. He managed to give an interview to the TASS news agency, in which he talked about the operation carried out in January 1945, during which his sabotage group managed to frustrate the Nazis' plans for the complete destruction of the Polish city of Krakow.
Alexey Nikolaevich Botyan was born in 1917 in the village of Chertovichi, Oshmyany district, Vilna province of the Russian Empire, which later became part of Poland. He served in the Polish army, in 1939 he participated in battles with the Nazis who attacked Poland. After obtaining citizenship, the USSR learned to be a teacher and worked as the head of an elementary school.
In May 1941 he was sent to study at the Higher School of the NKGB of the USSR in Moscow. With the beginning of World War II, he was included in the Special Group under the People's Commissar of Internal Affairs (later the 2nd Division of the NKVD), formed on the basis of the First (Reconnaissance) Directorate of the NKGB - the NKVD. Participated in the defense of Moscow, with the partisans fought in the territory of Ukraine, Belarus, and Eastern Europe.
After the war, for a long time he carried out the tasks of the Motherland abroad and on the territory of the Soviet Union.
The title of Hero of Russia, retired colonel Alexei Botyan for the operation to save Krakow was awarded in 2007 by presidential decree.
"Military Review" expresses condolences to the relatives and friends of Aleksei Nikolaevich.