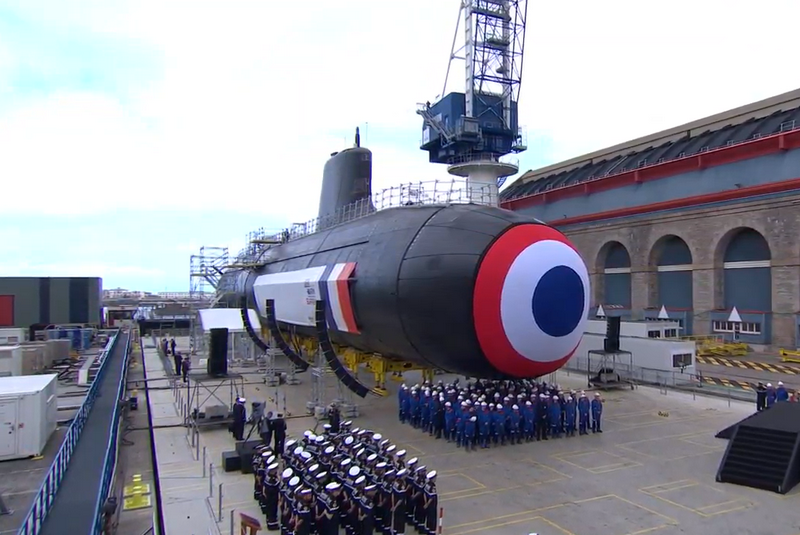 The French lead multipurpose nuclear submarine Suffren of the new Barracuda project began immersion tests. The first static dive took place at the Naval Group shipyard in Cherbourg (Normandy). It is reported by Naval News.
The static diving procedure allows you to check the reliability of the sealing of the submarine, as well as evaluate its stability in the underwater position. After checking for leaks, the submarine will go to sea tests until the end of the first quarter, which will last several weeks. At the first stage, off the coast of Cherbourg, the submarine will continue to develop static dives of the submarine without the use of a mover. Then, "Suffren" will make the transition in the vicinity of Brest, where it will perform deep sea dives.
At the end of summer and early autumn, tests of weapons systems off the coast of Toulon are planned.
The submarine, dubbed Suffren - in honor of the French admiral Suffren de Saint-Tropez - was built over 10 years. It was laid in December 2007, launched on July 12, 2019, the transfer to the customer is planned at the end of this year.
The project "Barracuda" is one of the largest defense projects in France, even the fact that French President Emmanuel Macron and the Minister of Defense Florence Parley attended the ceremony of its "launching" show this.
The project to build six nuclear submarines of the new generation was launched in 1998 year and was initially estimated at 7,9 billion euros. But the costs eventually exceeded nine billion. Due to technical difficulties, the project was also delayed for three years.
Submarines of this series are to replace in the French Navy obsolete Rubis-type submarines built between 1976 and 1993 a year.
The submarine's displacement is about 5300 T, the length is 99 m, the service life of a nuclear reactor reaches 10 years. Submarines will be armed with Scalp Naval and Exocet cruise missiles, as well as heavy Black Shark torpedoes.