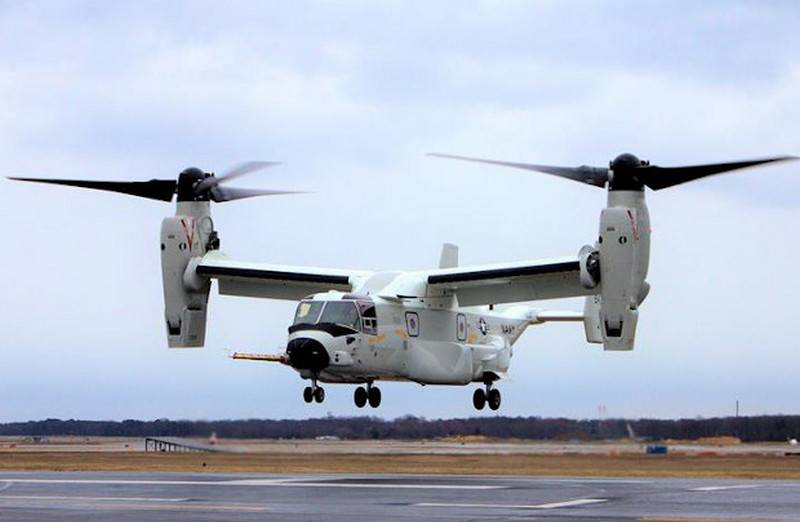 The United States Navy received the first CMV-22B tiltrotor transport, the machine passed all the necessary tests. It is reported by Flightglobal.
According to the publication, this is the first tiltrotor of forty-eight ordered by the US Navy. According to previously announced plans, the first production CMV-22B should go to the U.S. Navy in 2021.
The CMV-22B transport tiltrotor was developed by order of the U.S. Navy based on the V-22 Osprey tiltrotor and is expected to replace the outdated C-2A Greyhound carrier-based transport aircraft. First of all, the military intends to use such devices to deliver spare parts to aircraft carriers located at a great distance from the coast. The maximum load of the machine is about 9 tons, the optimal one is in the region of 2,5 tons (maximum flight range).
Bell and Boeing, which are leading the development of the new tiltrotor, do not much talk about their new car. To date, it is known that the tiltrotor received conformal fuel tanks of increased volume located on the sides of the fuselage in order to increase the flight range. According to available information, the CMV-22B transport tiltrotor is capable of transporting goods weighing up to 2,6 tons at a distance of up to 2,13 thousand kilometers.
One of the reasons that prompted the U.S. Navy to order the development of CMV-22B, was that in the cargo compartment S-2A does not fit the engine from the F-35 fighter. The new tiltrotor freely carries aircraft engines, which in the future will become the main fighter of the US Navy.
Currently, U.S. Navy aircraft carriers at sea use C-2A Greyhound transport aircraft to deliver fuel, spare parts and provisions. The transporter has a length of 17,3 meters, a wingspan of 24,6 meters and a height of 4,8 meters. The maximum take-off weight is 27,2 tons. It is designed to carry up to 26 passengers or cargo weighing up to 4,5 tons. C-2A is capable of flying at speeds of 465 kilometers per hour over a distance of 2,4 thousands of kilometers. The U.S. Navy X-NUMXA entered service in the 2 year.