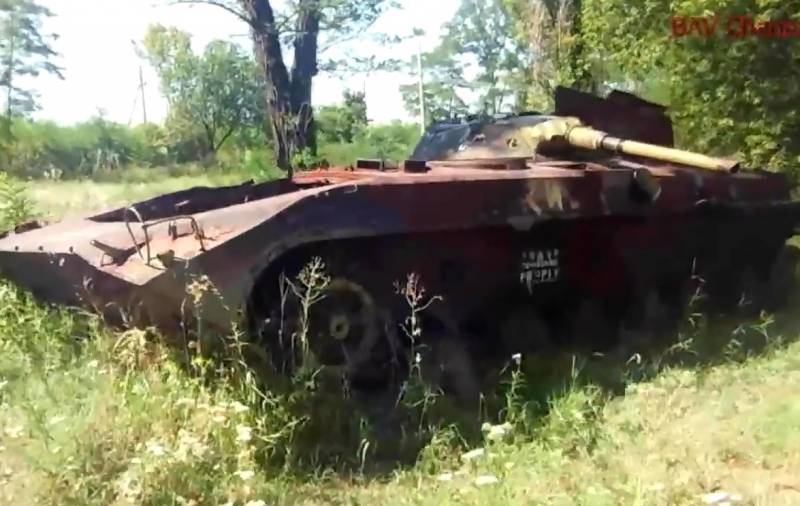 The Ministry of Defense of Ukraine in its statistics, which the agency provided to the information and consulting company Defense Express, revealed data on the loss of armored vehicles during the so-called ATO.
During the most fierce phase of fighting in the Donbass, which lasted from 2014 to 2016, the loss of armored vehicles of the Armed Forces of Ukraine amounted to 2576 units. This is according to official Ukrainian statistics.
Of these, 391 units are irrevocable. The vast majority of this equipment is the BMP: the DNI and LNR fighters disabled 1415 infantry fighting vehicles and destroyed 214. During the fighting, 439 Ukrainian armored personnel carriers were damaged and 68 were irretrievably lost.
The Ukrainian military suffered the greatest losses during the fighting in 2014, when Donbass militias managed to take control of the border with Russia and arrange the Ilovaisky Cauldron for the "liberators". After the defeat near Ilovaisk and Debaltseve, Kiev reduced its military activity, limiting itself to shelling cities and towns, sorties by sabotage and reconnaissance groups, and the work of snipers. This explains the significant reduction in losses of Ukrainian armored vehicles after 2015.
It is easy to see that these statistics do not take into account
Tanks
, Armored personnel carriers and infantry fighting vehicles of units of the Ministry of Internal Affairs of Ukraine, the National Guard and volunteer nationalist battalions, which also participated in battles.
In addition, part of the irretrievably lost Ukrainian equipment was restored and entered the disposal of the Popular Police of the DPR and LPR.
There are no data on losses for the same period in NM LDNR.