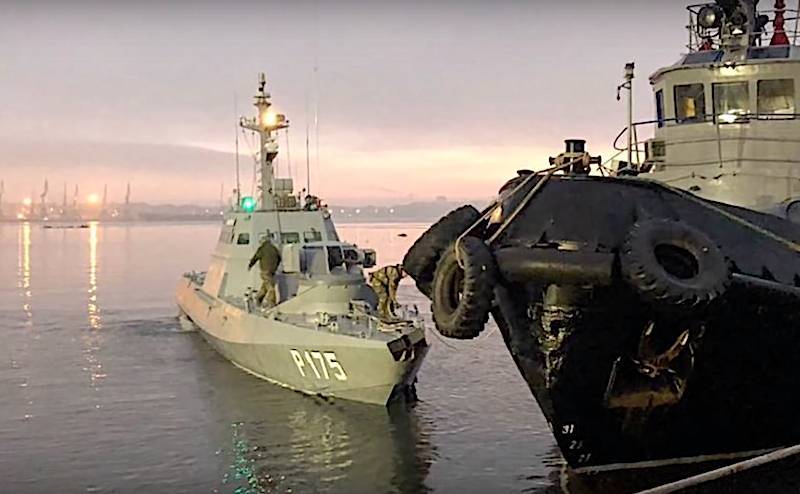 Ukraine may soon introduce a series of sanctions against Russian investigators, prosecutors and judges who took part in the investigation of the case against Ukrainian sailors detained in the Kerch Strait in November 2018. This was reported by Ukrainian media with reference to the Ministry of Veterans, Uncontrolled Territories and Temporarily Displaced Persons.
According to the press service, the Ukrainian Ministry of Veterans, together with the Crimean Human Rights Group, have already prepared a draft sanctions against the above individuals, as well as Russian security officials who took part in "armed aggression and unlawful detention of Ukrainian citizens" and "arranging trials in Crimea." In total, it is said that several dozens of people are included in the preliminary lists for sanctions.
The project is aimed at coordination with relevant authorities. After its approval, the draft order will be submitted to the Cabinet of Ministers of Ukraine and, if adopted by the government, will become the basis for the adoption by the National Security and Defense Council of Ukraine of a decision on the application of sanctions
- said in a statement.
What exactly will be the new registered sanctions of Ukraine against Russian citizens is not reported.
Recall that on November 25, 2018, Russian border guards detained the Ukrainian military boats Berdyansk, Nikopol and the tugboat Yana Kapu in the area of ​​the Kerch Strait, trying to break through the Russian border. In total, 24 Ukrainian sailors were detained and subsequently arrested, who sat in Russian pre-trial detention centers before the large exchange between Russia and Ukraine in 2019.